In many parts of the globe, the Covid-19 epidemic has rendered center-based testing inaccessible. As a result, a rising number of colleges are accepting Duolingo as an alternative for the TOEFL and IELTS, which can be completed at home through the internet. 
Nearly 1,000 colleges now recognize the Duolingo test, with many of them using it as a necessary means of demonstrating English ability.
The purpose of the Duolingo English Test was to make language certification as safe, accessible, and inexpensive as feasible. This article will help you understand the Duolingo English Test certification process and the test validity period. 
---
What is the Duolingo English Test?
The Duolingo English Exam (DET) is a computer-based English competency test for overseas students. Compared to other English language competency assessments, it is quick, easy, and inexpensive. It's a contemporary English proficiency test designed to assist international students and institutions. 
You may take the examination from the comfort of your own home using a computer and a camera; there is no need to schedule an appointment or drive to a testing center.
The popularity of the Duolingo English exam is growing every day since it is convenient and straightforward. Many foreign schools accept Duolingo as a prerequisite for entrance. In Canada and the United States, China, Japan, and Germany, institutions such as Monash College in Australia, California State University in the United States, Brandon University in Canada, and Schiller International University in Germany. 
Several institutions in the United Kingdom also recognize the DET. The Duolingo English Test is comparable to the IELTS or TOEFL exams. Here we will go through the Duolingo English exam in-depth and provide all necessary information. 
---
Why Choose the Duolingo English Test?
The Duolingo English Test is unusual in that it can be completed online from the comfort of your home computer. You do not need to register for test centers or make appointments like other examinations. 
As a result, it would be less expensive than other English proficiency exams, which often cost USD 49. 
Applicants are free to take the Duolingo language test anytime they like. Aside from learning that, here are a few other reasons to take the Duolingo English Test:
This exam is a more manageable and accessible way to measure English competence.
Other English proficiency exams are more difficult to register for, requiring you to go to a test center and endure lengthy and stressful testing sessions, but not with Duolingo. It may be accessed from any location over the internet.
The results of the Duolingo English exam are accessible in 2 days or 48 hours, and you may submit them to as many institutions and colleges as you choose.
The Duolingo English Test allows you to demonstrate your English skills to the university by combining a video interview and writing sample with a proficiency score.
The Duolingo English Test may be taken at any time and in any location; the only prerequisite is that you have the appropriate technical requirements and test environment.
Other English language examinations will be more complicated than the Duolingo competence exam. 
---
Duolingo English Test Validity
During the COVID-19 situation, when students don't appear to want to deliver their English Language Proficiency exams to the exam center, Duolingo allows them to take the exam from the comfort of their own homes. The validity of the Duolingo exam is the same as that of other English assessments. 
As a result, taking the Duolingo test is an excellent option. The exam design and scores, as well as the validity of Duolingo test results, are equivalent.
Students will be permitted to utilize the test scores for admission purposes for a certain period after the test provider has delivered certified scores/results and certificates. 
The Duolingo English Test score validity is shown here:
Certificates: DET will only provide test score certificates to the proper account to safeguard the legitimacy of the test result and the candidate.
Validity of the Duolingo English Test Score: The Duolingo English Test score is valid for two years.
---
Interpreting the Results of the Duolingo English Test
After the Duolingo certification test has been scored and reviewed, you will be notified via email that your results are available. The official Duolingo English Test website has a link to your report.
Your skills are assessed by Duolingo English Test certification as a holistic score on a scale of 10-160 with 5-point increments. Conversation, Comprehension, Literacy, and Production subscores are included in the test results and an overall score.
The Duolingo English Test Score was determined on a scale ranging from 10 to 160 points. For admittance to prominent colleges throughout the world, an overall score of 120+ and subscores of 100 are deemed acceptable. 
However, as a test taker, you must guarantee that you put up your best effort and get the highest possible score on the Duolingo English Test.
Overall Scores
Your proficiency is measured on a scale of 10 to 160 points, with 5-point increments. The Common European Framework (CEFR), an international benchmark of language ability, is connected with the Duolingo English Test score scale.
Different colleges have different admissions criteria. Make sure to check the university's website for admissions requirements.
---
Subscores
Subscores provide a clearer picture of a student's ability to comprehend and interpret the English language in certain areas. 
The Duolingo English Test subscores are divided into four categories for this purpose. On a scale of 10 to 160, each subscore is also graded.
Literacy: This subscore indicates your ability to read and write.
Conversation: This subscore indicates your ability to listen and talk.
Comprehension: This subscore indicates your ability to listen and read.
Production: This subscore determines your ability to write and talk.
Your total score, as well as your subscores, will be shown on your score report. You may see an example of a score report below.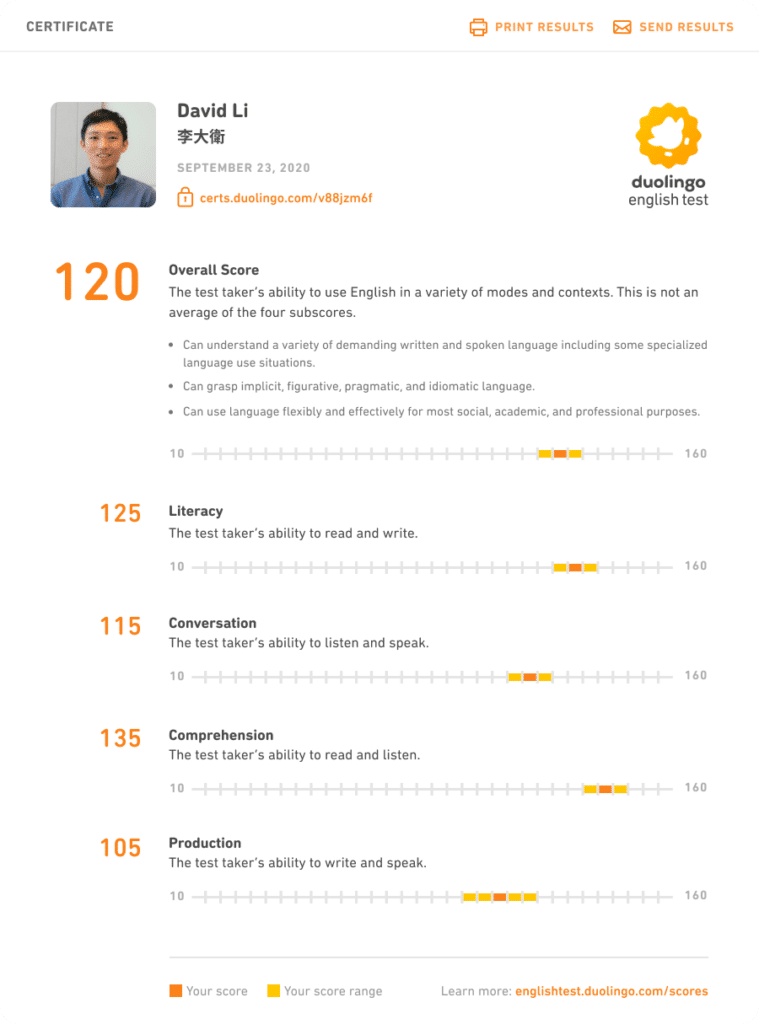 You will receive your Duolingo English Test Certificate. Once the test certificate is released, you check it online, save, download, or print, as per your needs.
Each Duolingo English Test Certificate has a unique URL to verify the authenticity of the test result.
A Duolingo English Test Certificate shows the following information of the test taker:
Description for each subscore
---
The results are given on a scale of 10 to 160.
Each certificate has a secure connection that is unique to it.
A broad description of what you can achieve is included in your overall score.
Subscores are used to assess your ability in certain areas.
---
---
What Can institutions View from Your Duolingo English Test Result?
Here are the items that the chosen universities will see in your Duolingo English Test after sending the test marks to the relevant institutions through the Duolingo English Test official website.
Score on the DET: The chosen universities, like you, will have access to the identical Duolingo English Test results that you have, including the overall score and subscores.
Speaking and Writing Samples: The universities will have access to the speaking and writing samples you gave in the final 10 minutes of the exam, in addition to the scores. While these examples are ungraded and have no effect on your grades, they represent how you communicate and your command of the language, giving you a more accurate picture of yourself. Institutions will utilize this to understand you better and make decisions based on the samples supplied.
---
Retaking Duolingo English Test
In the same way that candidates may repeat any other English Proficiency Test, applicants can also retake the Duolingo English Test. However, candidates must follow a few rules before retaking the Duolingo English Test. 
Below are a few rules and things to watch before retaking the Duolingo English Test.
The candidate will be allowed to take a second test within 30 days after receiving your certified Duolingo English Exam certificate. 
If the candidate has already obtained your certified Duolingo English Test certificate, the applicant will not take a second test.
Candidates who have not obtained their certificate within the stipulated period need not be concerned since the attempt will not be counted against the 'two tests within 30-day limit'.
Candidates will be able to take as many exams as they like after the 30 days have expired if they so want.
---
Final Thoughts
Are you ready to sit for the Duolingo English language proficiency test? This alternative could be reasonable if you're applying to large institutions that accept it—or if you're applying to a huge number of schools, some of which accept it. 
However, if you're an expert at conventional testing and find it difficult to switch gears, you could find it more difficult than you think! Only one way to find out is to take the practice exam and discover if it's the correct fit for you. 
---
Additional FAQs – Duolingo Test Certification and Validity
The Results of My Tests Were Not Certified. Is it Possible for Me to Retake the Test?
Duolingo has urged that you take their instructions seriously — so seriously that if you fail to adhere to the regulations (such as not taking notes or using your phone during the exam), you will be barred from taking the test in the future.
Duolingo retains the right not to verify your test results if you are accused of breaking any of the Duolingo English Test guidelines. Please examine the test regulations and prerequisites before retaking the test in this circumstance.
You may retake the Duolingo English exam as many times as you desire until you achieve proficiency. You may, however, only try it twice in a 30-day period. Once the last exam results are revealed, you will not be able to register for a second test try. You will be able to acquire your Duolingo English Test certificate twice in a 30-day period.
How Can I Appeal My Results?
If you obtained an invalid result due to a violated rule, they have 72 hours from the time they received information that their test was not certified to appeal the result. They may provide facts in the appeal email to contextualize their testing scenario and request that the outcome be reexamined.
Within four business days of receiving an appeal, it is examined by a proctoring supervisor. The proctoring supervisor reviews the appeal message, re-evaluates the test, and responds to the tester with a verdict to affirm or overturn the original result.
Is it Possible to Appeal My Results Even If They Were Certified?
No. Test results that have been certified are final and cannot be challenged, re-examined, or re-scored.
If you are dissatisfied with your test results, you have the option to pay and retake the exam. Please remember that you are only permitted to acquire two verified test results during each 30-day period.
My Exam was Decertified Based on the Email. What Exactly Does This Mean?
Security and integrity are of the utmost importance for the Duolingo English Test. Rarely, they discover new material after a test has been validated and shared with an institution, triggering further security procedures.
If you get an email saying your test was decertified, it indicates they did extra security checks and discovered evidence of a rule violation.
According to the terms of service you agreed to before taking the exam, they informed the institutions you gave your results to. It's gone, and you can't get it back. You cannot retake the exam.
They utilize all available information and technology to make certification choices and ensure the Duolingo English Test is safe and fair for all students. They seldom reverse certification judgments, except when necessary to maintain the test's integrity. 
Is the Duolingo English Test Secured?
During testing, audio and video are captured on the user's device and examined by a human fraud proctor to dissuade cheating pupils. Part of the cost of this proctor is covered by a nonrefundable fee. These proctors try to determine whether users are cheating by categorizing "infringements" into major and minor categories.
A severe violation bans a person from taking an exam for 24 hours, whereas five minor infringements invalidate the test.
Can I Have My English Certified At Home?
The possibilities for English testing are evolving. Previously, you had to take your exam in an official test center in person. You may now take an online English competency exam.
 
The Duolingo English Test is a popular method to prove your English proficiency without having to leave your house. It is becoming more popular as a valuable resource for overseas students.
Furthermore, due to the worldwide epidemic, several testing sites have lately closed.
The Duolingo English Test, on the other hand, has provided international students with a secure means to validate their English abilities online. This means kids may continue to work on their college applications from the comfort of their own homes.
Are Duolingo English Test Scores Reliable?
This is accomplished by using technologies like data analytics and artificial intelligence, which are used by the Duolingo English Test to ensure dependability and security. 
The test-taker must adhere to the standards and regulations that have been established, such as not covering your face while taking the test, not using any suspicious materials while taking the exam, and not communicating with a second person while taking the test, among other things. 
The identification and photos are taken remotely for authentication purposes.
I'm Concerned that a Test-taker will Beach the Regulations. So, What Should I Do Now?
Security and integrity are of the utmost importance for them. 
The Duolingo English Test certification uses cutting-edge security systems to prevent and identify rule-breaking activity. However, they are fully aware that some individuals may be very motivated to acquire an unfair edge on the exam.
You may share further information with Duolingo by contacting customer support if you suspect a test-taker has breached the test regulations for any reason. Your personal information will be kept private. 
Please provide as much information as possible regarding the circumstances and the test-takers involved. A supervisor will review your email, who will reply if they have any questions.