Being an excellent book for both Academic and General Training, Barron's IELTS Superpack is one of the most comprehensive preparation guides you can have. It is suitable for mastering various lessons and skills that can help you ace your English-language proficiency exam.
This guide is understandable and complete, including everything you need for the IELTS examination, significantly when you aim to immigrate to Canada through Express Entry.
This article will lay out detailed opinions, thoughts, and information about Barron's Guide to review its pros, cons, contents, and user ratings.
IELTS Preparation Book: Review of "IELTS Superpack (Barron's Test Prep)"
---
Everything You Need To Know About Barron's Guide
Before proceeding to the book review, let us first discuss the basic information about Barron's IELTS Superpack. The first part will present a few details about the book's content, available latest edition, and pricing. 
Author
Dr. Lin Lougheed is the author of Barron's Guide to IELTS. He is a known author of more than 30 EFL/ESL textbooks, and he is the leading authority in ESL Test preparations for TOEFL, TOEIC, and IELTS. Previously, Dr. Lougheed was also a member of the Executive Board of TESOL, an international EFL/ESL professional organization. 
Book Contents
The Barron's IELTS Superpack is a complete study package composed of numerous Barron's materials compiled in one single masterpiece. It has comprehensive modules for four Academic and General Training exams. Moreover, it also has exclusive online audio tracks that you can find through links found in the book.
Aside from that, Barron's Guide also has plenty of practice questions and examinations to help you prepare for the actual IELTS test.
The practice tests include various types of exams, such as:
Short answers
Multiple-choice questions
Diagrams and maps
Selecting from a list
Classifications
Graphs and tables
Sentence completion
Flowchart completion
Labeling
Summarizing
Note-taking
Matching-type questions
After taking the practice tests, you may assess yourself through the detailed answer explanations provided in the latter part. This book also has expert tips, strategies, methods, and tricks that you can use to answer IELTS questions quickly and effortlessly.
Latest Edition
The Barron's Guide to IELTS has published its latest edition, "IELTS Superpack (Barron's Test Prep) Fifth Edition," on November 3, 2020, under Barron's Educational Series. 
Guide or Book Contents
To have a glimpse of the things you can find inside Barron's Guide to IELTS, here is the official table of contents of its fifth edition book.  
Introduction 
Using This Book 
Questions and Answers About IELTS 
Preparing for IELTS 
A Study Contract· 
Exam Day Tips 
Listening Module
Quick Study
Overview
Question Types 
Listening Tips 
Completing the Blanks
Listening Skills
Reading Module 
Quick Study
Overview 
Question Types
Reading Tips
Reading Skills: Academic
Answer Explanations
Writing Module
Quick Study 
Overview 
Question Types 
Assessment Criteria 
Writing Tips
Task Achievement Skills
Task 1 – Academic Writing 
Task 2 – General Training Writing 
Task 3 – General Training and Academic Writing
Writing Skills
Coherence and Cohesion
Grammatical Range and Accuracy
Revision
Responding to the Task
Coherence and Cohesion
Lexical Resource 
Grammatical Range and Accuracy 
Answer Explanations
Speaking Module
Quick Study
Overview
Question Types
Speaking Tips 
Speaking Skills 
Part 1: Introduction and Interview
Part 2: Long Turn
Part 3: Discussion
IELTS Model Tests
Academic Model Test 1 
Academic Model Test 1 – Answer Explanations 
Academic Model Test 2 
Academic Model Test 2 – Answer Explanations 
Academic Model Test 3 
Academic Model Test 3 – Answer Explanations 
Academic Model Test 4 
Academic Model Test 4 – Answer Explanations 
General Training: Reading & Writing Model Test 1 
General Training Model Test 1 – Answer Explanations 
General Training: Reading & Writing Model Test 2 
General Training Model Test 2 – Answer Explanations 
The book also includes Audio Scripts.
Price
The prices for the IELTS Superpack (Barron's Test Prep) Fifth Edition may vary depending on the individual stores and your location. For instance, you may purchase the latest edition of Barron's Guide on Amazon for USD 29.05 to USD 61.57. However, the total expenses you will have may also increase due to its shipping fee.
---
Book Review: Barron's Guide
Since there are a lot of preparation books to choose from when studying for IELTS, it is challenging to know if the textbook you have chosen is enough or not. Considering that, here is a detailed book review to help you determine if Barron's Guide is an excellent book for IELTS preparation.
General Overview
In this part, we will shine a light on this book's benefits and drawbacks. There will also be user ratings from different sites and platforms to know the opinions and thoughts of various users regarding Barron's Guide to IELTS.
Pros
The IELTS Superpack (Barron's Test Prep) has excellent writing, reading, listening, and speaking theory reviews. There is also complete information that is easy to understand, making it possible for IELTS test-takers to retain the sufficient knowledge they need for the exam.
In terms of IELTS vocabulary, Barron's Guide may also take the lead. It has more than 600 words that may appear on the passages, practice exams, and online audio tracks. These words are essential for your English-language proficiency.
If you aim for a band score of 7 and above, this book is suitable for you. The Barron's Guide can also lend you a helping hand to envision what will appear on the actual IELTS exam.
Cons
Despite its excellent content, Barron's IELTS Superpack still has a probability of falling into the pitfall. Even though the information on writing, reading, and speaking is sufficient, the listening practice test examples are quite different from the actual test. In that case, you will most likely feel surprised because the questions differ from what you have expected.
Aside from that, some practice test questions on the book have lower difficulty, so you will have trouble answering the actual exam because they will be more complex. Some parts of Barron's Guide are also not suitable for expert-level learners.
Lastly, even though this book contains numerous information, it is still pretty expensive.
Ratings 
Moving on, here are some user ratings from various people who have purchased and used this book for their preparation for the IELTS examination.
Goodreads
Unfortunately, there are 16 ratings in Goodreads, but only one of them has a review. According to that one user who commented on Barron's Guide, this book is beneficial to everyone who prepares for the IELTS. Once you have this guide, you will not have to pay for practice groups or private lessons for IELTS preparation.
Additionally, the user also stated that she got band 8 thanks to this book. Overall, Barron's Guide to IELTS got a rating of 4.31 out of 5 on Goodreads.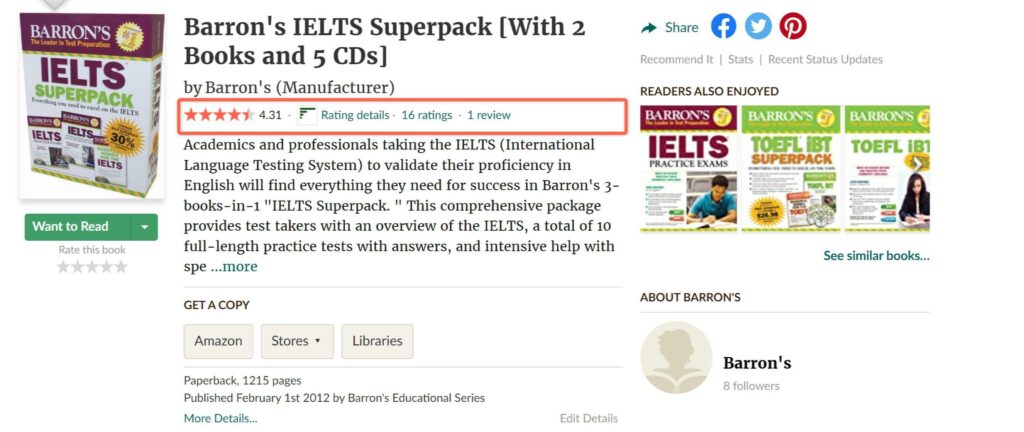 Amazon
The Barron's Guide to IELTS received a user rating of 4.1 out of 5 on Amazon. The users commented that the book's content is excellent because there is plenty to study about IELTS. There are various exercises, texts, tips, and explanations to understand the lessons better.
Moreover, the users also said that there are many vocabularies to learn. This preparation book is suitable for learning and memorization. It also deals with both IELTS Academic and General Training.
However, some users felt disappointed about the quality of the paper. They said that it looks like the papers used on cheap books or newspapers. Aside from that, they also had trouble signing in and accessing the online audio links provided in the book.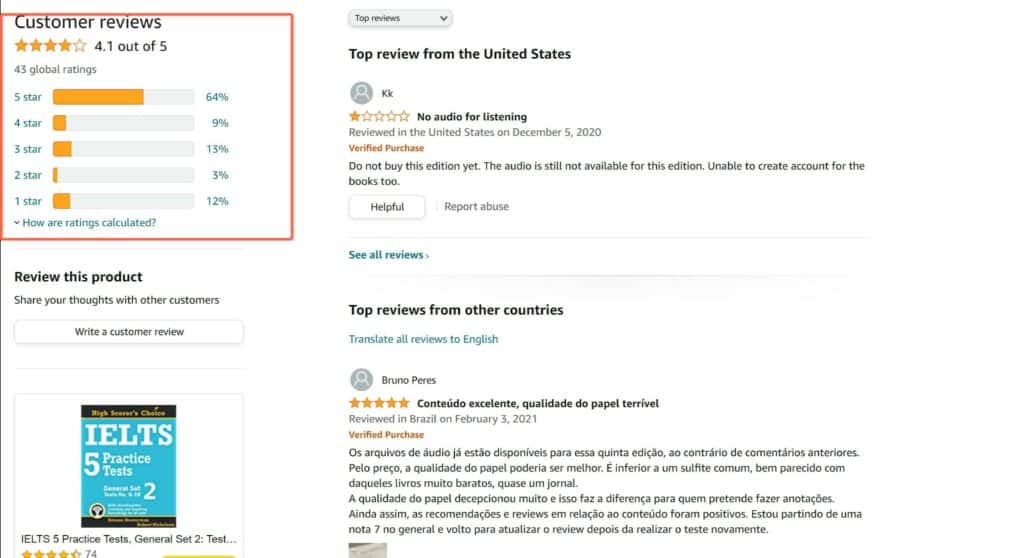 Flipkart
Users from Flipkart gave Barron's Guide a rating of 4.2 out of 5. Few comments were saying that this book is more than sufficient and is worth it. There are proper and detailed step-by-step explanations of all modules and exercises. The content helps IELTS students to understand different modules.
In addition to that, this guide also includes everything an IELTS test taker needs to learn. Nonetheless, some users also had negative comments about the book. They said that it has poor quality and that it is not suitable for expert levels.
Aside from that, a user also commented that the listening, speaking, and writing modules are not that useful from an IELTS examination point of view.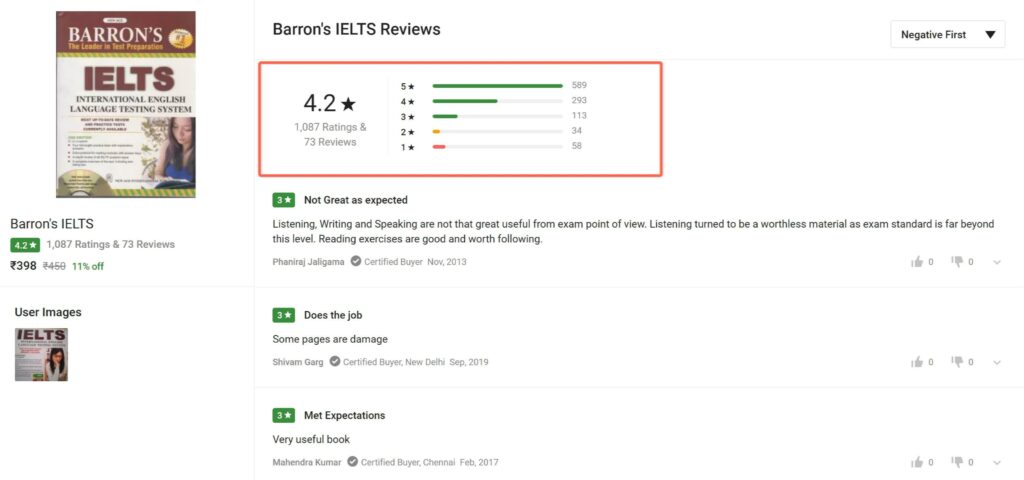 Thriftbooks
Lastly, Barron's Guide to IELTS got a user rating of 4.5 out of 5 in Thriftbooks. Users who have experienced using the book and taking the IELTS examination commended its excellent content. The well-explained techniques and practice tests help improve your knowledge and perspective on things.
However, the only drawback regarding this book is that it would be better if it had CDs intended for listening. 
---
How To Use The Book Effectively
To use this book to its furthest extent, you need to know some tips on studying with Barron's Guide. Nevertheless, you will not need to worry because this part will help you with that as it gives you advice and study tips!
According to a user in one of the ratings, you need to use this book and answer the practice tests with 100% sincerity and willingness. If you study for IELTS without enthusiasm in doing it, you will not learn anything.
Use the online audio tracks to accompany the written lessons on the book. That will make you understand the information better.
Since Barron's Guide has more than 600 vocabulary words, it will be best to have a paper or notebook and pen with you to jot down the words.
Only use Barron's Superpack Guide when you have sufficient time for studying.
Try to take all the practice exams to test and improve your knowledge and skills.
---
Final Thoughts
The Barron's Guide to IELTS can be one of your superheroes when looking for the best IELTS preparation books. It is comprehensive, detailed, and complete, making it excellent for gearing up for acing the examination. You can find the skills and knowledge you need to have a band score of 7 and above.
Nevertheless, despite its excellence, we still suggest getting other reading materials to accompany Barron's Guide. Many users and test-takers recommend matching this book with The Official Cambridge Guide to IELTS to be entirely ready for the test. If you have other books to use with these textbooks, feel free to do so!
Getting ready for the IELTS exam may be exhausting and troublesome for you, but using the correct set of books can light up the path!
Do you have any experience in using Barron's Guide before taking the IELTS test? Please share your thoughts with us in the comments below!
---
---