The Objective IELTS Intermediate Student's Book is a 2-level IELTS preparation course that offers comprehensive and challenging training for the General Training and Academic test modules. The book features a broad scope of vocabulary and grammar practice for each skill.
Each level offers a solid 60-80 hours' worth of intense studying, which can be extended using the CD-ROM. The accompanying CD-ROM gives extra IELTS practice to further work on your grammar, vocabulary, and pronunciation. 

IELTS Preparation Book: Review of "Objective IELTS Intermediate Student's Book"
---
Everything You Need To Know About Objective Guide
Before buying this IELTS preparation book, it is crucial to know what to expect. To help, here is a detailed guide about the Objective Guide. 
Authors
Co-written by Micheal Black and Wendy Sharp, the Objective IELTS Intermediate Student's Book serves as an informative resource that can fully equip you with the knowledge you will need to pass the IELTS exams. 
Books Contents
The main goal of Cambridge's Objective series is to offer solid language development, training in exam skills, and lively class discussions. This preparation course combines in-depth and rigorous language training, complete with systematic test preparation and practice for a better chance of acing the IELTS Academic and General Training tests.
This book has 20 short units that cover a broad range of motivating topics. There are 10 'Test Folders' which include each exam task in extensive detail and offer practical and informative advice. To match that are 10 'Writing folders' which assist in further developing and honing writing skills and giving thorough and meticulous practice in exam tasks. The book also provides a sense of progress.
There is also a 'Grammar folder' in the mix, which provides more examples and further explanations for better understanding and learning. There is an accompanying CD-ROM for extended training on grammar, pronunciation, vocabulary, and additional practice on all the four necessary skills; listening, speaking, reading, and writing.
Moreover, it is essential to note that Cambridge released another book on this series, one for a higher band with more advanced activities and training involved. 
Latest Edition Available
The latest and most recent edition of the book is the first edition released in May 2006. There are no other editions released after it. 
Books or Guide Contents
Here are the Objective IELTS book contents to guide you further on what's inside them. The detailed contents of each book are as follows:
IELTS Listening Skills
There are 40 questions in the book, scattered into four sections, dedicated to listening skills. The 1st and 2nd sections are related to social needs. There is a 2-person conversation which is followed by a monologue.
The 3rd and 4th sections, on the other hand, focus on situations related to training and educational contexts. They include a conversation held by up to 4 people and a monologue after. The question for listening skills are chosen from the following types:  
Note completion
Multiple choice
Short-answer questions
Sentence completion
Matching
Classification
Labeling a diagram
Summary completion
Table/flow-chart completion
IELTS Reading Skills
There are 40 questions and 3 reading passages for reading skills with a total of 2000 words – 2500 words (General Training) and 2000 words – 2750 words (Academic). The 1st passage is about 'social survival,' 2nd focuses on 'training survival,' while the 3rd highlights general reading. The questions are chosen from the following types:
Matching
Classification
Multiple choice
Short-answer questions
Sentence completion
Summary completion
Labeling a diagram
Yes/no/not given
True/false/not given
Locating information
Note completion
Table/flow-chart completion
Headings
IELTS Writing Skills
Writing skills include 2 tasks that would help you organize data, express opinions, challenge ideas, and provide factual information. The tasks include the following types:
Describing graphic data/diagram
Writing a letter
Writing an essay
IELTS Speaking Skills 
Speaking skills include an oral interview between yourself and an examiner that would last for approximately 11-14 minutes. The interview will consist of 3 parts;
Introduction and interview
Individual long turn
Two-way discussion
Other items in the book:
CD-ROM
Answer key 
Audio CD (sold separately)
Price
The price for the Objective Guide ranges from USD 40 to USD 50, depending on where you will purchase it and your location. 
---
Book Review: Objective Guide
After taking a closer look at the book's content, it is now time for a brief review. Is the Objective Guide cut out to prepare students for the IELTS exam? Or is it still lacking? Read on to know its strength, weakness, and just what readers and verified buyers say about the book.  
General Overview
Here are the advantages and downsides of buying the Objective IELTS Intermediate Student's book.
Pros
The book contains numerous tasks and activities that can undoubtedly train you for the IELTS exams. There are 'writing folders' and 'test folders' for comprehensive and in-depth guidance and practice in every aspect and part of the test.
What is especially great about this book is its content. The 20 units of the book extensively cover the 4 required skills. Furthermore, each unit focuses on relevant topics that help maintain the student's interest, at the same time, giving them a sense of prideful and meaningful progress. The book gave vocabulary, grammar, and pronunciation emphasis to help with learning.
Additionally, there is a CD-ROM that offers extra IELTS practice for further honing of skills. 
Cons
Like any other preparation book out there, the objective guide also has its drawback. While there is so much to learn from this book, some would find this lacking, specifically in the speaking and writing sections.
Another drawback to note is the accompanying CD-ROM. It is pretty out-of-date compared to some computers nowadays. Some people might not have the proper drive or device to play it. 
User Ratings
Here are some reviews of people who bought and read the book to offer more information and insight about The Objective IELTS Intermediate Student's Book. 

Goodreads
The Objective Guide for IELTS Preparation accumulated a 4.9 out of a 5-star rating on Goodreads. A reader had pointed out how it is especially helpful for non-native English speakers wanting to learn the language. Readers also find this book educational, and if paired up with a workbook, it would be a good help in preparing for the IELTS.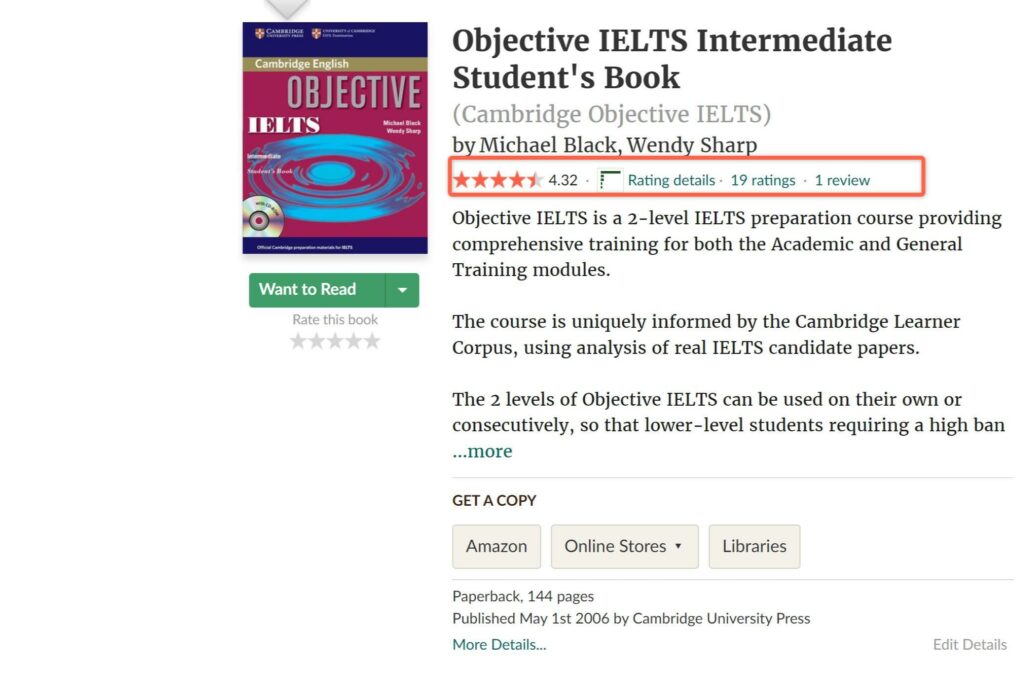 Amazon 
On Amazon, this book received a 3 out of 5-star rating. Readers claimed the book to be a clear and excellent exam guide. It is useful for B2 English level students. Readers also praised how detailed the book explains the grammar and mode of tests included in the exam.
Unfortunately, some readers encountered issues with the CD that was supposed to be included in the book. Some express disappointment as they did not receive theirs. Readers also pointed out how the speaking and writing sections of the book were limited 
UBuy
At UBuy, the book is rated a 3 out of 5. Readers praised the book for being excellent support for those who need to prepare for the IELTS exams. They said that each unit and section of the book provided great explanations about grammar.
Some readers also said they encountered some problems with the CD. While they find the book useful, some noted that there are more specific and helpful books than this objective guide.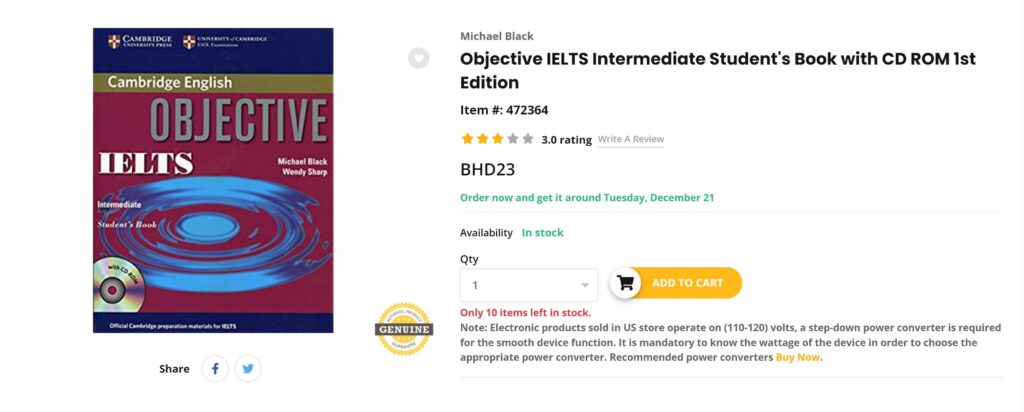 ---
How To Use The Book Effectively?
If you use the Objective Guide for your IELTS preparation, you will need to know how to use the book effectively. Below are some tips you can use:
Take the time to learn about the system of the book. Browse through the pages and familiarize yourself with the general directions of the book. Try to understand how it works first before jumping to reading and studying.

Figure out your approach, whether you want to focus on one skill first before moving on to the next or not.

Find a quiet and relaxing spot in your home to read and study. It might come in handy to have a pen and paper near you so you can take down notes or write unfamiliar words you want to check out later.

Evaluate yourself. Figure out which skills you still lack and pay extra attention to that section when using the book. Though, that does not mean you can slack off on other areas.

Apply the advice, strategies, and tips you learned from the book to real-life scenarios as much as possible.

Follow the instructions for each unit and activity closely. If there is a time limit, make sure to follow it too.

Enjoy! You will definitely learn more if you are interested or enjoying yourself. Do not push yourself too hard.
---
Final Thoughts
The Objective IELTS Intermediate Student's book is a great book to use when preparing for the IELTS. This book is beneficial for training students to reach a band of 5.0 and 6.0. It can serve as an informational resource to further your English skills and language development.
Though, keep in mind that this is an intermediate-level book. For more advanced training and band, you will need to refer to the advanced version of the Objective Series from Cambridge or find other books that could supply you with the information you need.
Despite the Objective Guide's drawbacks, though, this book can still certainly assist and guide you in passing the IELTS! 
Have you used the Objective IELTS Guide to prepare for your IELTS test? Let us know in the comments below.
---
---