The IELTS Writing Task 1 is one of the tests you need to accomplish if you take the IELTS Test. It is by no means an easy test as a vast majority of candidates who have taken it left the testing room feeling not confident of how they performed in this part of the test. Some complained of the time allotted being too short of finishing the test, while some say that they are not familiar with the types of questions that appeared in the test.
We do not want you to experience the same, so we have gathered every detail there is to know about the IELTS Writing Task 1. Please continue reading. 
---
What is IELTS Writing Task 1?
The IELTS Writing Task 1 is the first of two tasks in the IELTS Writing Test.  It is different for the IELTS Academic and IELTS General Training modules. 
You should have at least 150 words and are advised to spend only 20 minutes on this task because the second task has more weight. But that is not to say that you should exert lesser effort in the IELTS Writing Task 1.
Your marks in this part of the test still contribute to your overall marks in the IELTS Writing. 
In the IELTS Academic Writing Task 1, you are presented with either a graph, chart, table, map, or diagram, and you need to describe and explain the data given. You are assessed based on your ability to:
select and report the most significant parts
describe and compare facts
identify significance and trends in factual data
describe a process
On the other hand, the IELTS General Training Task 1 requires you to compose a letter responding to a given predicament. It appraises your ability to:
explain a coherent, relevant, well-organized argument
support concepts with evidence or examples
use the appropriate language and voice 
---
How are the Questions Set in the IELTS Writing Task 1?
Since the IELTS Writing Task 1 is designed differently depending on who will take it, the types of questions are also different for the IELTS Academic and IELTS General Training modules. 
IELTS Academic Writing
Bar, Line, and Pie Graph
You will be presented with either a bar, line, or pie graph. You need to describe and explain the data in the graph. 
Example 1: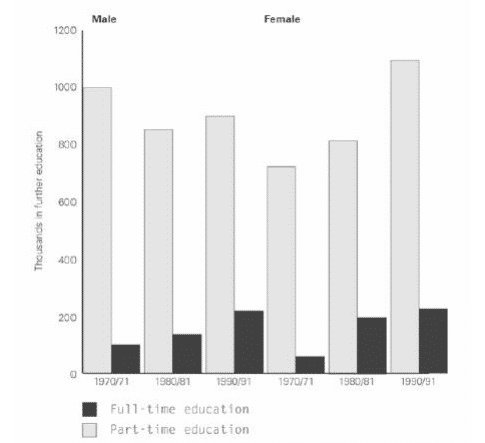 Example 3: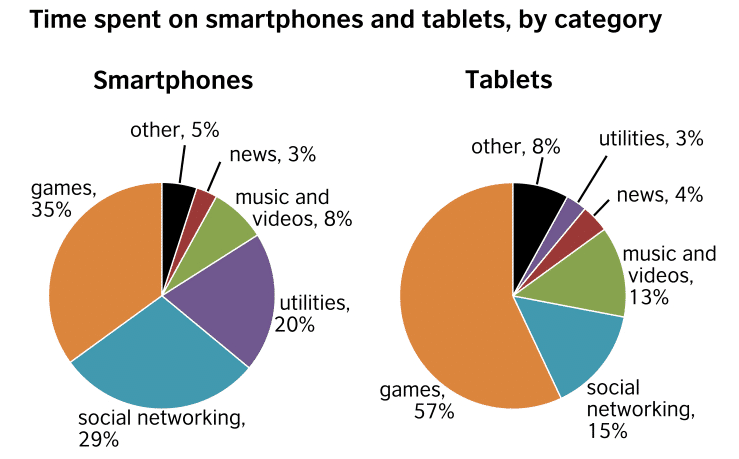 ---
Table
You will be presented with one table of data. You need to describe and explain the data given in the table. 
---
Diagram
You will be presented with a diagram of a process. You need to describe and explain the data given in the diagram. 
---
IELTS General Training Task 1
Example 1:
You are going to study in another country. You would like to work part-time while studying, so you would like to seek the support of a friend who lives nearby.
Write your friend a note. In your letter, 
describe your study plans in detail
describe why you wish to work part-time
offer a way for your friend to assist you in your job search
Example 2:
You flew from New York to Frankfurt last Friday. You discovered that you had left your hand luggage on the plane when you returned home.
Send an email to the airline. In your letter,
explain how you lost your bag and when you lost it
describe what your luggage looked like and what it contained
express how you want the airline to help you
---
How is the IELTS Writing Task 1 Scored?
The IELTS Writing Task 1 is marked based on the following criteria:
Task achievement – 25%
Coherence and Cohesion – 25%
Lexical Resource – 25%
Grammatical Range and Accuracy – 25%
---
Helpful Strategies to Use for IELTS Writing Task 1
You only have 20 minutes in the IELTS Writing Task 1. It may be short, but if you spend it wisely, it could mean the difference between a high and low band score. 
To maximize the time given, here are the different techniques and strategies to help achieve your desired band score in the IELTS Writing Task 1. 
IELTS Academic 
Recognize what you will see in front of you: Be prepared by practicing writing for pie charts, maps, and flow diagrams. Make sure you are familiar with all of the visual types and that you have written at least two practice responses for each, including the multiple tasks, before taking the IELTS Writing Task 1. Keep in mind that this is a skill test and a language test. 
Determine what you need to do with the graph, chart, map, or diagram: The IELTS Academic Writing Task 1 usually states: "Summarize the information by selecting and describing the main aspects and making comparisons where appropriate," regardless of the question type. Compare, contrast, assess minimums and maximums, and find and describe trends rather than simply listing data. Do not go into detail about everything you notice. 
Introduce the task: To do so, rephrase the information and explain what the IELTS Writing Task 1 entails. Throughout the course, we strongly advise you to paraphrase. You will lose crucial marks if you do not.
Have an overview: The primary trend or most visible piece of information from the graph or chart should be stated clearly in the overview. You should not include the chart's details just yet. To begin, simply describe what you can see in general.
Describe the most important characteristics: This is where you can get into greater depth about the graph. All you need to do is refer back to the data. You need to explain what is the same and what is different. Comparative structures can be useful in this situation.
Have a brief conclusion: We recommend that you include a brief conclusion, even if it is not required. This should connect the entire work together, and it could even contain a critical analysis of why the trends have occurred. However, do not go too far from the topic.
---
IELTS General Training
Have your letter in paragraphs: Your letter in the IELTS General Training Task 1 should have at least four paragraphs. 

Introduction
Problem
Solution
Conclusion
Do not have your letter in one paragraph only, as this will confuse the examiners with the point you are trying to make. Having them in separate paragraphs will also make your work more organized. DO not forget to use transition words in your paragraphs. 
Identify the purpose of the letter: Read through a variety of sample questions. Determine whether a formal, semi-formal, or informal response is required. This will help you identify the language and voice you should use in your letter. 
Cover all bulleted points:  In the IELTS General Writing Task 1, you will be asked to write a letter based on at least three bulleted points. The examiner will be looking for those in your letter. Make sure you cover them all. Otherwise, you will lose marks. 
Use standard written phrases:  Utilize a number of conventional idioms and phrases in English letter writing. These will not only save your time and hard work, but they also help the reader understand what we're saying. You can modify these basic phrases to include the specific information you want to convey.
---
Top Tips to Succeed in Writing Task 1 (Both Academic and General Training)
To get a high band score in the IELTS Writing Task 1, you need to employ different techniques and strategies that have worked for successful candidates.
Remember that it is a timed test, and you need to utilize your time wisely. 
Here are the different tips you can apply to help ace the IELTS Writing Task 1 Test Section: 
Have a strong introduction: This will make it easier for you to maintain the information you include in your writing. You could write a separate beginning paragraph but keep it short so you do not run out of time for the rest of your work. Alternatively, you can join the introduction and the first paragraph in the IELTS Writing Task 1. A topic sentence in your introduction should map out the rest of your writing and give the examiners a feeling of direction.
Plan your IELTS Academic Writing Task 1 structure: To create an excellent IELTS Academic Writing Task 1 response, you must first consider the format. When you know what to remember, it is a breeze. It is simple if you know what to remember. Before taking the test, master the skill of structuring a draft and outline of your writing. 
Have the main idea for each paragraph: Each of your paragraphs should have the main idea. The rest of the paragraph's ideas will be supporting ideas. Do not go off-topic. Avoid irrelevant supporting details as this will cause deductions on your IELTS Writing marks.
Do not waste your time on IELTS Writing Task 1.: Spending too much time on the IELTS Writing Task 1 may impact the quality of your IELTS Writing Task 2 response. It should take you no more than 20 minutes to plan, write, and proofread your Task 1 response. If not, your 40 minutes to complete the second task will be shorter, which could be difficult. Furthermore, IELTS Writing Task 1 accounts for only roughly 30% of your overall IELTS Writing score. 
Write the number of words required: You need to have at least 150 words in the IELTS Writing Task 1. Failure to do so will lead to a lower band score. It is advised that you write 170 – 190 words. However, remember that the examiner will mark your writing task based on the quality of your work and not the quantity of words you have written. 
Proofread: When you are finished writing, set aside around five minutes for proofreading. However, your top objective is to complete the IELTS Writing Task 1, so do not put off editing until later. It is a good rule to never turn in your work early. Make the most of the time you have left by proofreading. Remember that this is a language test, so your grammar, vocabulary, and spelling, as well as your ability to structure your work, will be heavily scrutinized.
---
Sample Questions and Answers for IELTS Writing Task 1
IELTS Academic Writing Task 1
Example 1:
Sample Response:



"Between 2011 and 2018, the graph depicts trends in music purchasing patterns. It offers three options: streaming, downloading, and purchasing CDs.

Both downloads and physical music sales have been steadily declining. The latter has been in decline since 2011, while the former began in 2014. Since 2013, however, there has been a significant increase in the number of people streaming music.

CDs accounted for 55 percent of all music sales in 2011, accounting for the majority of all sales. Streaming, on the other hand, was uncommon, with only 5% of people using it. Furthermore, despite the fact that consumers had begun to download music, it only accounted for 35% of total purchases. As CD sales began to decline, downloads began to rise. They progressively increased, and by mid-2013, downloads had surpassed retail sales. Streaming doubled to 10% during the same period but then grew more rapidly.

Downloads peaked in 2014 at almost 43% of revenues, but by 2018 had dropped to 30%. This was significantly larger than the decrease in physical sales, which fell to 25%. On the other hand, streaming surpassed both of them in 2018, accounting for slightly over 40% of all revenues."
---
Example 2: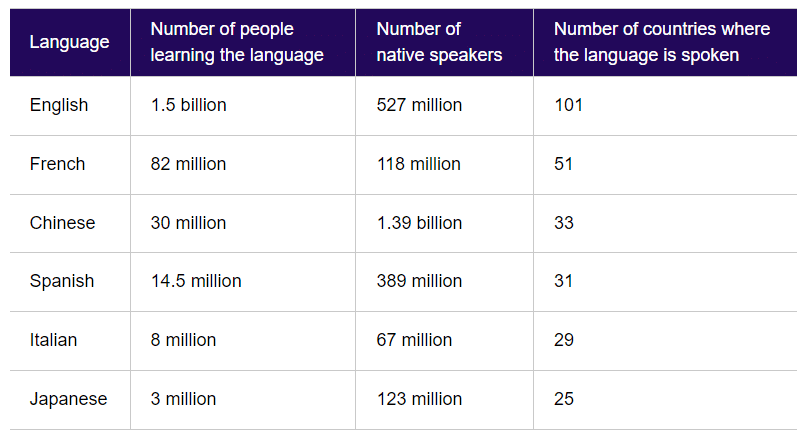 Sample Response:



"The table depicts some fascinating statistics about some of the world's most widely studied languages. It indicates how many countries have speakers of each language and permits comparisons between the number of people who learn a language against those who speak it as a native tongue.

The dominance of English is remarkable. Only 82 million individuals study the second most popular language to learn, French, compared to 1.5 billion who study English. There are 101 nations where English is spoken, approximately twice as many as French and three times as many as Chinese. The only language having more learners than native speakers is English.

With 1.39 billion native speakers, Chinese surpasses English as the most widely spoken language. With 30 million learners, it is the third most popular language to study. Spanish has over five times the number of native speakers as Italian but has a lower proportion of learners (14.5 million vs. 8 million). With 3 million learners, Japanese is the least studied of the languages listed.

More people are studying English than any other language, and English is spoken in most countries. On the other hand, Chinese has by far the most native speakers. There appears to be a minimal association between the number of native speakers and the number of learners in a language. Still, there is a stronger link between the number of learners and the number of nations with speakers."
---
IELTS General Training Task 1
Example 1:
You took a taxi recently and left some essential paperwork in the taxi.
Write a letter to the taxi company. In your letter, 
describe what you left and where it happened 
explain the significance of the documents 
express what you want the manager to do 
Sample Response:



Dear Sir/Madam, 

I'm writing in response to a recent trip I took in a vehicle from your fleet on June 1st, 2020, from London Mayfair to Piccadilly station, commencing about 4 p.m. and ending 30 minutes later.

I started studying some very crucial documents containing confidential customer data as soon as I got into the taxi that day. I strongly suspect that I left these documents in the cab when we arrived at our location. Because the information included in these files is extremely valuable, and if they get into the wrong hands, there might be terrible consequences for myself and possibly your firm. The records deal with a highly sensitive government issue involving national security, so it's critical that they're located and given to me as quickly as possible.

As a result, I'd like your company to examine the security camera in the cab on the above-mentioned date and hour. In addition, I'd be pretty grateful if you could forward me the driver's contact information, as I'd like to speak with him before the problem gets out of hand.

Your aid, in this case, is critical, and I would like to believe that we can resolve this without the involvement of the police. 

Thank you for your time and consideration.

Regards,

Mr. Yu
---
Example 2:
To be closer to your family, you'd like to work in a new city.
Request a transfer to another office in a letter to your employer. In your letter, 
explain why you want to relocate 
request that your company place you in a certain city
request that it be accomplished by a specific deadline
Sample Response: 



Dear Management,  

My name is Sam Peterson, and I've worked with IMG Inc. for more than twelve years. I am currently employed as a branch manager in the Lexington branch.

I've recently learned that my wife's father now requires full-time care, and I'd want to request that I be moved to a different office so that we can be more involved. I'm aware that the company has an office and factory in Dentsville where my in-laws live, and working there would put me in close proximity to my father-in-law. If my specific role is not available at Dentsville, I am happy to be interviewed for and consider other relevant employment case-by-case basis.

Unfortunately, because this is a time-sensitive matter, I'd like to request that I receive confirmation of the transfer within the next 30 days. Otherwise, I may have to leave the organization unfortunately.

Sincerely, 

Sam Peterson
---
Additional FAQs on IELTS Writing Task 1
How Can I Improve my Writing Task 1 in IELTS?
Regardless of the module you are taking; you can get high marks in the IELTS Writing Task 1 by understanding the test format and knowing how the test is marked. 
If you take the IELTS Academic Writing, familiarize yourself with the different visual tools such as graphs, tables, charts, and diagrams and learn how to describe and explain them.
Moreover, if you are taking the IELTS General Training, study the structure of writing a letter. 
How Can I Get 8 in IELTS Writing?
Achieving an 8-band score (or higher) in the IELTS Writing may be challenging, but it is not impossible. The key is to practice.
There are two tasks to be accomplished and while preparing for the IELTS Writing Test, ensure that you have studied enough how to give your performance on both tasks.
Utilize the different online materials and seek advice from experts and past candidates. 
What is the Format of Writing Task 1?
The IELTS Writing Task 1 is different for both the IELTS Academic and General Training modules. Because the two modules are intended for different groups of candidates, the test difficulty level varies as well.
For the IELTS Academic Writing Task 1, you are asked to describe and explain data from a given graph, chart, table, or diagram.
The IELTS General Training Task 1, on the other hand, requires you to write a letter in response to a given situation. 
Is 6.5 in IELTS Writing Bad?
No, a 6.5 in the IELTS Writing is not bad. It is a pretty decent band score. It means that you are a competent user of the English language.
It is also the minimum band score required by most universities and companies that require IELTS.