Barron's Essential Words is a carefully written and structured lesson material and guide that can help people improve their English vocabulary while preparing for the TOEFL exams.
The book features a revised list of 500 words with sample practice reading tests and improved exercises that can help maximize one's English proficiency. Moreover, it provides practical strategies that can help you learn word meanings for better retention.
This article provides a comprehensive and in-depth review of Barron's Essential Words. 
TOEFL Preparation Book: Review of "Barron's Essential Words For The TOEFL iBT Test"
---
Everything You Need To Know About Barron's Essential Words For The TOEFL 
The Barron's Essential Words is especially helpful and designed for people preparing for the TOEFL exams. It features an updated vocabulary and a list of words that are most frequently included on the exam.
The 7th edition, specifically, is thoroughly and rigorously researched, being a product of TOEFL-related academic materials and previous TOEFL exams. The result of the research gave birth to a powerful book and guide of words. It certainly is ahead of other TOEFL preparation books out there.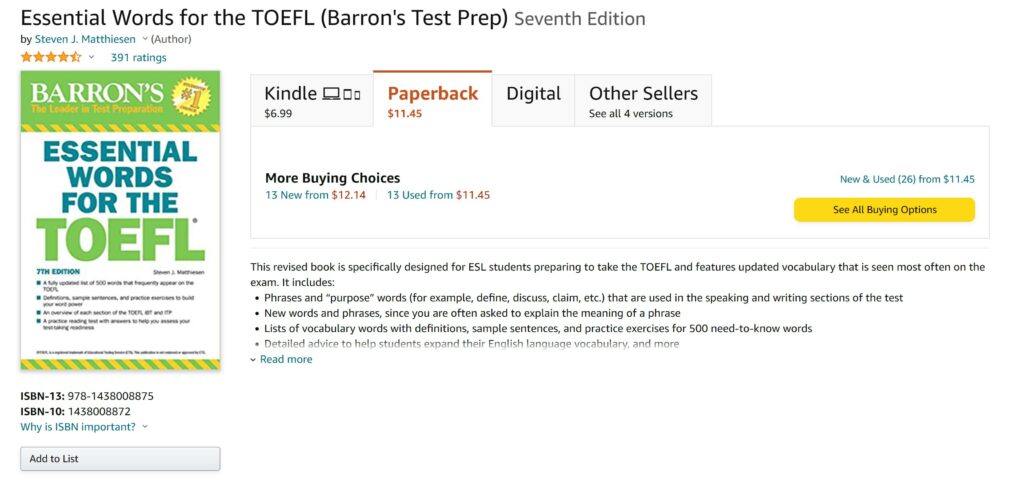 Before buying the book, you must be aware of what is inside. It would help you judge whether the book is worth purchasing or not. Here is what you will need to know about the TOEFL preparation book. 
Author
Steven J. Matthiesen authored this book to help students prepare for their TOEFL exams. It is an extensively informative book that can help expand one's vocabulary and improve their English proficiency. 
Book Contents
The Barron's Essential Words showcases an organized list of 500 must-need-to-know vocabulary words with definitions, simple sentences, and practice exercises. It also features detailed and informative advice on how people can expand their English skills and vocabulary.
The main objective of the book is to assist readers in maximizing their understanding of words. It also provides tips on how to retain the meaning better and how to use them.
Moreover, it features sample practice reading tests that can help assist in mastering the TOEFL vocabulary. This book will undeniably help evaluate a person's progress and increase their confidence in their English skills and vocabulary. 
Latest Edition Available
The latest available edition of the book in the market is the revised 7th edition, released in 2017. There have been several prior versions released before then. This revised book features updated vocabulary that often appears on exams. 
Guide or Book Contents
Chapter 1 
It includes a thorough and meticulous explanation of the TOEFL exams. These chapters describe the significance of the test and a detailed breakdown of the four sections of the exam; reading, listening, writing, and speaking. 
Chapter 2
This chapter emphasized the reading section of the TOEFL. It tests reading skills rigorously. It includes sample questions, reading comprehension samples, and strategies for the iBT and ITP of TOEFL exams. 
Chapter 3-4
These chapters are impressive resources for building and improving vocabulary. They included valuable tips and tricks on how to improve and learn words. 
Chapter 5-6
These make up the grand majority of the book. Chapter 5 includes the 30 vocabulary lessons, with each lesson introducing 17 new words that are common in the exam. Definitions and examples are given, which are immediately followed by synonym-matching exercises and sets of vocabulary in-context reading questions.
The last chapter includes a full TOEFL Reading section, which includes three reading passages and 3-set questions. Each of these passages has extra questions outside of the ten questions per passage in the actual exams. Though, the passage style and type of questions are still accurate.
The book also includes an answer sheet at the end—also, an index with all the vocabulary words listed alphabetically. 
Price
The average price of the Barron Essential Words book ranges from USD 11 to USD 13. The cost varies and is mainly based on the location and country. 
---
Book Review: Barron's Essential Words For The TOEFL
Now that the book's content is revealed, it is also necessary to know the overview, including the pros and cons of buying it. Readers' ratings also matter when deciding on whether it is worth it or not. 
General Overview
This next section of the article provides a brief review of Barron's Essential Words. 
Pros
The main advantage and benefit of using this book is its extensive list of frequently-used words in the TOEFL exams. Not only are these words likely to appear in the exam, but they could also be helpful in everyday settings and context.
These words could help you expand your daily vocabulary and transform your sentences into something more interesting. You can use what you learn here in writing papers and emails and doing speeches and monologues.
Moreover, the book provides well-explained advice and tips in learning word meanings. It also has good exercises that can help test and keep track of progress.  
Cons
The most observable drawback to this book is that it pays too much attention to the reading section. It lacks in the listening and speaking section, most especially.
Moreover, the words in the book are said to be basic. It lacks upper-level vocabulary words, and the 500 words are also a bit overwhelming for some. 
User Ratings
Goodreads
Barron's Essential Words acquired a 4.04 rating on Goodreads. Readers claimed it to have effective exercises. It contains detailed guidelines and good vocabulary that are useful in situations other than for English proficiency exams. The book also has words that are essential for the TOEFL exams and ones that could help expand someone's vocabulary.
Readers, however, point out that it would be more helpful if the book instructs how to pronounce the main words properly. There are also reviews that state how the previous edition is better than the latest. 
Amazon
In Amazon, Barron's Essential Words accumulated a 4.6 out of a 5-star rating. Readers claimed that the book helped improve their proficiency in English and transform their daily vocabularies for the better.
The book has helped various readers pass their TOEFL exams with model essays, in-depth vocabulary, and up-to-date exercises. It proved to be a helpful guide that can assist in retaining essential words needed to master fluency in English.
Unfortunately, some readers find this book lacking in difficulty. Some claim that most words in the book are basic and considerably easier compared to other TOEFL books. It is a good starter book and would be helpful for those with limited vocabulary.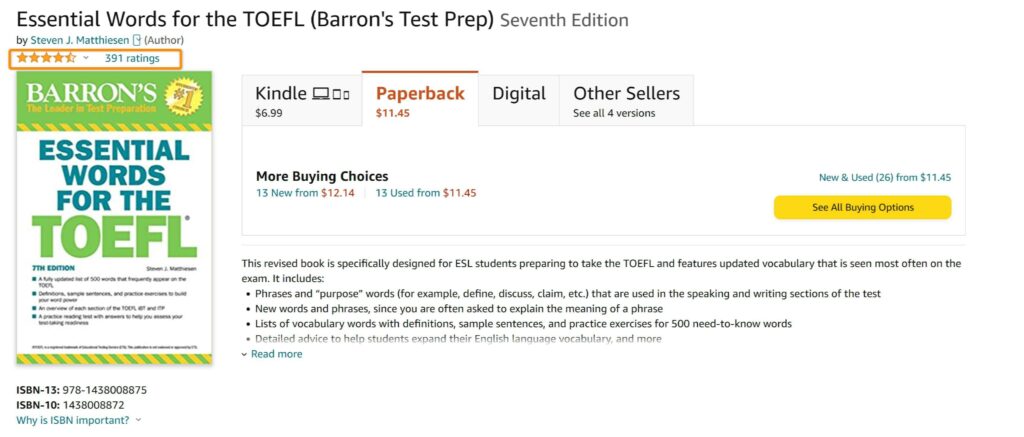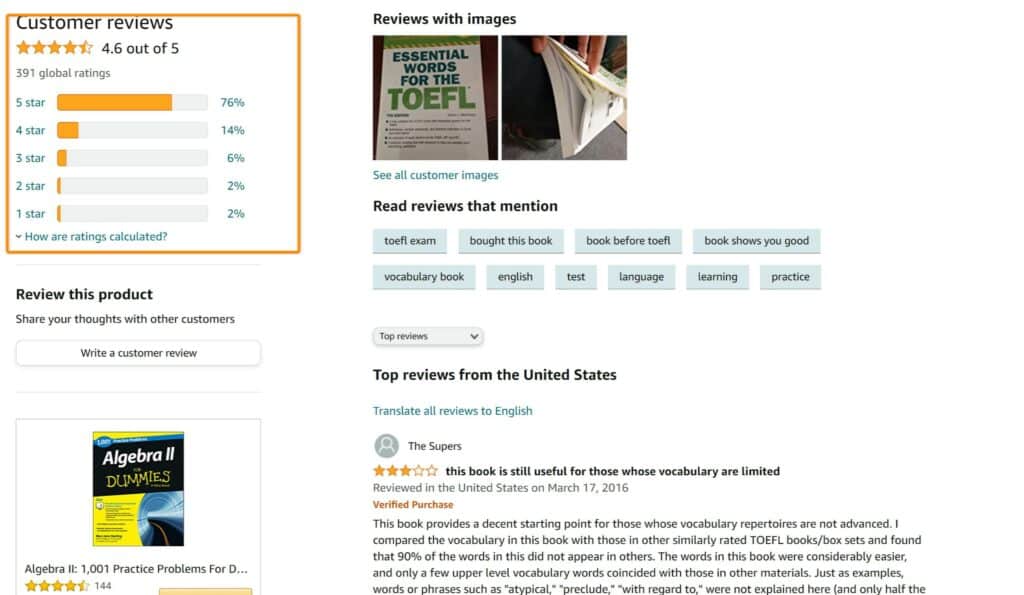 Ubuy
Barron's Essential Words has a 4.6 rating on Ubuy. The book provides a bank of handy and necessary words useful in various contexts in real life. It serves as a good guide for taking the TOEFL exams with its practice exercises and informative explanations.
Some readers, however, said that it does not meet the complexity and level of difficulty of TOEFL. Others claim that the book is overwhelming and contains too many words.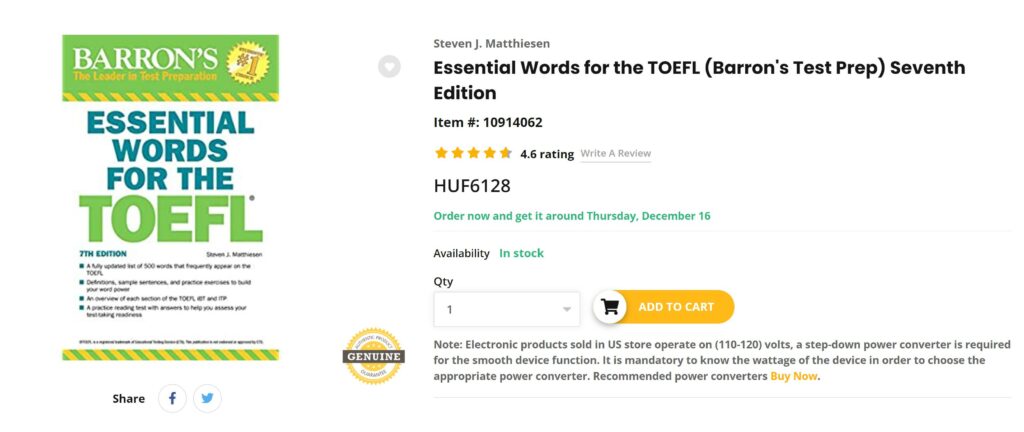 ---
How to Get the Most Out of Barron's Essential Words?
This TOEFL resource material is the right preparation book for you if you are searching for one that features words that would likely appear on the exam. It might also be the right fit if you want to expand your vocabulary further and if you want to improve on your proficiency. 
The most likely way to get the most out of this book is by reading and answering everything. Do not skip on the early chapters — it is necessary to learn the importance of the TOEFL. It would also help you know what to anticipate during the exam. 
Go through all the lessons at your own pace and answer the practice exercises honestly. You can keep track of your progress better and see how much you learned and improved this way. 
For Barron's Essential Words, you must first learn how to use the book effectively. Here is how:
The book features a large number of words and study material. It could potentially be overwhelming if you dive right in without any preparation or means of studying. It might help if you familiarize yourself with the book content and system first.
Have a pen and paper near you. This way, you could list down words you are having trouble remembering and understanding. You can go back to them later.
As said, the book could be overwhelming at times. Do not try to absorb everything in one sitting. Set up break times to relax your mind and brain for a few minutes.
Apply the tips and new vocabulary you learn in real-life settings and context. 
Final Thoughts
The Barron's Essential Words for the TOEFL iBT Test Review is a helpful test preparation guide. It consists of must-need-to-know and remembers words that would not only likely appear on the exam but ones you can also use in daily life. The book contains detailed explanations and valuable tips to help you study and prepare for the TOEFL better. 
However, you must know that this book centers on the reading section of the TOEFL. If you are someone who excels in that skill, this book might be little help to you. Regardless, it would also be better not to rely solely on this book alone. Look for other TOEFL resource materials to increase your chances of getting a higher TOEFL score. 
---
Additional FAQs on "Barron's Essential Words for TOEFL"
Is Barron's Essential Words A Good Preparation Book?
The book does provide proper help for the TOEFL exams. It features 500 words that are likely to appear on the exam. Moreover, it can help you develop and improve your English proficiency by answering several practice tests and exercises.  This book would help you expand your vocabulary, not only in the academic context but also in the daily sense.
Which Book Should I Buy for the TOEFL?
The Barron's Essential Words for TOEFL is a good choice for a TOEFL prep book. It contains sufficient study material, practice tests, and tips to aid you in the exam. Aside from the 7th edition featured in this article, other previously released editions can help prepare you for the TOEFL. 
How many TOEFL books are there?
There are hundreds of TOEFL-related resource materials available. You can find them either in online shops or physical book stores. With the abundant number of choices, you will undoubtedly find one that is not only made for your English level but would also expand your understanding and knowledge of the language. 
---