Cambridge Preparation for the TOEFL Test is among the top TOEFL study materials thanks to its adaptable learning resource, high-quality practice tests, and comprehensive skill-building content. 
With around 700 pages, the book emphasizes honing your skills and further improving them for the TOEFL.
It features specific topics, TOEFL-style practice tests, and helpful test-prep and test-day strategies. Through this article, you will take a deep dive into the content and general overview of the book! 
---
Everything You Need To Know About "Cambridge Preparation for the TOEFL Test"
Cambridge Preparation for the TOEFL Test contains hundreds of practice tests similar and modeled after the TOEFL. They are identical in structure and style but almost in the same difficulty level.
Using this prep book would be highly beneficial for you as it could help you further hone your English skills with its extensive amount of practice material.
It would help to know more about the book before making your purchase to ensure it is the right choice. You have to check the book content, the latest edition, and see what is included.
Here is everything you need to know about the book! 
Authors
Jolene Gear and Robert Gear author the book. They created the book to assist students in preparing for the TOEFL Test. 
It covers the four necessary skills and contains numerous skill-building practice exercises that cover all question types in the TOEFL. 
Book Contents
The book is a large and thick thorough preparation material that covers hundreds of TOEFL-related and English-learning skills. 
Aside from the well-detailed introduction and appendices, there are three main parts, including the answer key, transcripts of audio clips, diagnostic test, and two practice tests. 
Part 1 – Building Supporting Skills
This part focuses heavily on honing general English skills—from your vocabulary comprehension to knowledge and grammar. Here is what to expect:
Learner Strategies
Note Taking, paraphrasing, and summarizing
Vocabulary 
Pronunciation
Assessing skills in grammar
Grammar Review 
Part 2 – Building Skills
This section is the backbone of the book. It provides challenging exercises to help build and improve the 4 English skills in the TOEFL exams. 
Reading
Strategies for building reading fluency 
Understanding meaning from context
Understanding connection of ideas
Understanding details and recognizing paraphrases
Making interferences and drawing conclusions
Summaries and charts
Reading section practice test
Listening
Strategies for building listening skills 
Understanding natural speech
Understanding connections
Identifying Topics
Details
Making interferences and drawing conclusions
Listening section practice test
Speaking
Strategies for building speaking fluency 
Pronunciation
Cohesion
Independent speaking tasks 
Personal preference tasks
Analyzing responses
Personal choice task
Integrated speaking tasks
Campus situation task
Academic task
Writing
Strategies for building writing fluency
Cohesion
Writing concisely
Independent writing task
Organization of an essay
Introductions
Organizing and writing developmental paragraphs
Conclusions
Analyzing essays
Paraphrasing and summaries
Integrating passages
Analyzing responses
Part 3 – Practice Tests
This section of the book contains two TOEFL practice tests in paper format. You may access these tests online if you have the 2014 version. 
Latest Edition Available
The latest edition is the 4th edition. 2 versions came out for this edition. 
One was with a CD-ROM published on September 11, 2006, under Cambridge University Press. 
The other in 2014 with an online access code. 
Both versions are mostly similar in content. 
What's Included?
Other items included in the book are the CD-ROM or the online access code, depending on which version you purchase. 
Price
Cambridge Preparation for the TOEFL Test varies in price, depending on your location and the shop. The price starts at USD 32.90 on Amazon. 
You can find cheaper options (mostly second-hand ones) in other shops like Thriftbooks and Abebooks.  
---
Book Review: Cambridge Preparation for the TOEFL Test
Now that you are aware of the book's content, it would benefit you to learn about the advantages and drawbacks of purchasing the book. 
General Overview
Here is a general overview of the book, including the pros, cons, and user ratings. 
Pros
Cambridge Preparation for the TOEFL Test has several great features. Amongst the book's biggest draw is its high-quality practice tests, which are ahead of several TOEFL prep books out there.
There are several full-length practice tests you can use to help improve your English proficiency. These tests thoroughly cover the four sections of the exam. 
More importantly, these practice tests are almost eerily similar to the actual TOEFL exam.
Aside from the practice tests, the book is also big on building and practicing skills. Making up the majority of the book, you will undoubtedly be able to hone and improve your English skills. The book has comprehensive skills-supporting content and units that would gradually boost your fluency in the language.
Moreover, the book also has helpful and valuable strategies and tips to help you on the test day. It advises studying for the TOEFL, improving your pronunciation, and enhancing your writing and reading fluency. 
Cons
Its biggest possible drawback and con is that you would not be able to access the audio files you need to improve your listening and speaking skills if you buy the book alone. You will not be able to practice for the listening section without the CD.
Fortunately, you can buy the CD set separately, although they are expensive. It would be best to buy a complete set—both the book and its CD set—since it is cheaper.
Another con for the book is that it provides little explanation for the answers to the practice test. They are either lacking, short, or unclear. There is also no list of vocabulary included. 
User Ratings
Here are some users' ratings for the Cambridge Preparation for the TOEFL Test.
Goodreads
The book has a rating of 4.05 stars in Goodreads. Readers praised the book's content, saying it has extensive TOEFL study material. 
It is specially mentioned that the book is helpful in terms of skill-building and preparing for the TOEFL exams. It helps familiarize with the test format and offers test-taking tips and strategies that can help increase one's score. 
However, some readers expressed disappointment in the Speaking and Listening tasks. That is unless you purchase the version with CD-ROM. 
Buying older versions would mean that these particular sections of the book will be lacking and not the most helpful for the TOEFL.  

Amazon
In Amazon, Cambridge Preparation for the TOEFL Test has a 4.1 out of 5-star rating. Readers pointed out the difficulty of the practice and support exercises.
The book has precise and clear instructions for all the four required skill sets involved in the TOEFL. 
Furthermore, the book also offers comprehensive and detailed information about solving strategies and tips that can help improve your English better.
However, there are some complaints about not receiving their CD-ROM for the book and being incompatible with MAC or Windows computers.  
Flipkart
The book got a 4.4-star rating on Flipkart. Readers claim that Cambridge Preparation for the TOEFL is a good resource material as it excels in its challenging practice exercises and offers the chance to polish your skills.
The book is leaning towards practicing and skill-building more than on learning. 
Moreover, the book is an authentic study material for the TOEFL since the material standard, test patterns, and questions are based on the actual exams of the TOEFL.
The issue most readers have with this book'sItlimited practice exercises for speaking skills.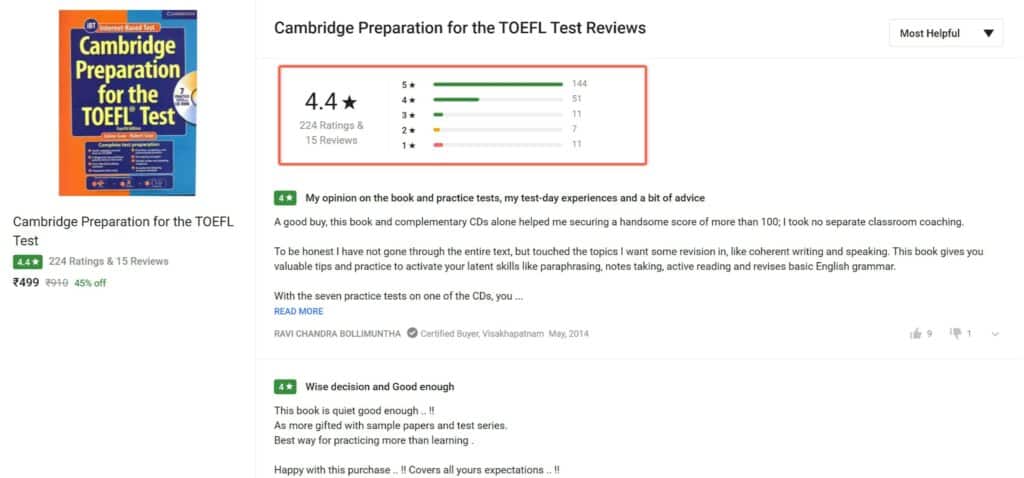 Thrift Books
At Thrift Books, the book has a 4-star rating. Cambridge Preparation for TOEFL, as explained by readers, thoroughly discusses each question type and section, leading to a better understanding of the TOEFL. 
The book also helps you hone and improve your skills in English.
The readers suggested purchasing the edition with the CD-ROM, which contains many speaking and listening exercises. Though, it is worth mentioning that it could not work on your computer.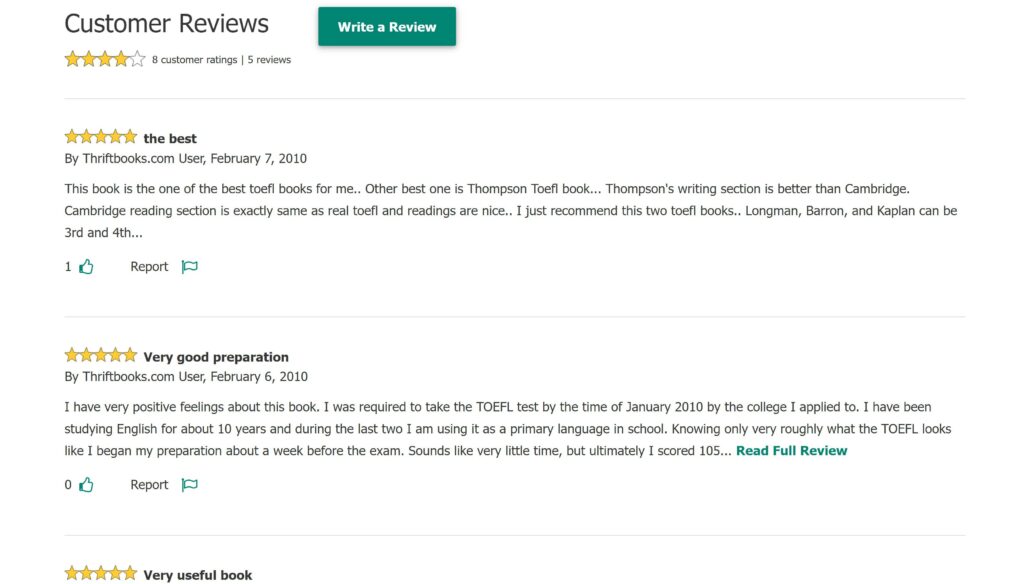 UBuy
At UBuy, the book accumulated a 4.1 rating. Readers sang praises for its strenuous integrated exercises that meet the level of the TOEFL exams. 
The book not only helps tremendously in preparation for the exams, but it can also help improve your daily English vocabulary. 
The issue most readers encountered was the CD-ROM. It is incompatible on MAC and some windows. Also, the book is thick and heavy, making it hard to carry around.  

---
How To Use The Book Effectively?
If you plan to buy the Cambridge Preparation for the TOEFL Test, you will need to learn how to use the book effectively. 
Here are some tips!
This book highly supports building skills. You can hone your skills by answering the exercises honestly. Not only are you practicing your skills, but you will also be able to identify where you lack and need the most practice.
To make full use of your preparation book, make sure to answer all practice tests to check your overall progress. 
Answer the diagnostic test and make sure to set a time limit! Check your answers and calculate your score. Look for a pattern in your mistakes. Once you figure it out, plan on how to strengthen your skills in that area.
You can make a list of topics you do not fully understand or have a hard time grasping so you can go over them later. 
Is This Book Right for You?
The book is mainly for high achievers aiming to get at least a 90 on the TOEFL exams. With its demanding practice tests and high level of difficulty, it is evident that this preparation book is targeting takers with good command of the English language. 
This book will surely help those who need high-level study material.
Also, this book is for you if you are looking for one that can help you hone and develop your skills. The book focuses mainly on skills supporting content with its skill-building practice exercises, large quantity, and excellent strategies.
This preparation book will also be the right fit for you if you are willing to spend both time and money to prepare for the TOEFL.
How To Get the Most Out of Cambridge Preparation for the TOEFL?
You will undoubtedly get the most out of the book if you purchase the CD with it. The audio files contain the listening section, which is an essential part of the TOEFL.
You would also be able to make full use of the book if you complete all the practice tests. Doing this will undoubtedly build your skills. 
Furthermore, you would be able to identify your strengths and weaknesses this way. You would be able to point out where you need to improve the most and which skill you need to work on. 
Final Thoughts
The Cambridge Preparation for the TOEFL Test is undoubtedly an excellent book for high achievers looking for resource material that can help further improve their skills and proficiency in English. 
The book contains a broad and exhaustive number of high-quality practice tests, valuable strategies, and skill-building material!
---
Additional FAQs on the Cambridge Preparation for the TOEFL Book
How Should I Start Preparing For TOEFL?
You may start by evaluating your level. Take an assessment test and ascertain your level in English. Devise a study plan that you can follow. After that, you can choose and buy a TOEFL preparation book. 
Most TOEFL books explain the test formats and question types of the exam to help you prepare for them. They also contain several practice tests and exercises wherein you can track your progress, as well as identify your strengths and weaknesses.  
How Long Will it Take to Prepare for TOEFL?
The average preparation time for TOEFL is around 2-3 months. Though, that can be adjusted depending on your proficiency and command of the English language. If you are generally good at the language, you can prepare for a month or less.  
If you do not have that much time to prepare for the test, you can make a well-detailed schedule and study plan to help you. 
When Should I Start Preparing for TOEFL?
The time to start the TOEFL preparation is highly dependent on the taker. You may start around six months or even a month before the exam.
Those with a good grasp of the English language can start a month or less before the TOEFL. Meanwhile, those who are not that fluent in the language should start earlier to aim for a higher score. 
What is the Best book to Prepare for TOEFL?
The Cambridge Preparation for the TOEFL test is a highly recommended TOEFL study material!
It is a high-level study material and prep book containing skill-supporting content, challenging exercises, and valuable strategies for the TOEFL. Other editions are released in the past if the 4th edition does not work for you.
---