Are you looking for practice tests and skill-building tips? Well, you can stop wandering around because you have hit the jackpot with Barron's TOEFL iBT Test Prep! This book has plenty of stuff to answer that can be helpful for your preparations.
If you are curious about this prep guide, you can continue reading as we discuss everything about it. We present its primary details, some pros and cons, and tips on how you can use it the best way possible. 
---
What is TOEFL?
The TOEFL is an accepted and preferred English-language proficiency test in over 11,000 institutions and universities and more than 190 countries. It is a high-standard and high-quality test that assesses one's skills in the English language. This test can come in two different methods: the internet-based and paper edition.
The exam includes various questions regarding the four academic skills: reading, speaking, listening, and writing. The scores you will get can be valid for two years. Moreover, it can be helpful in college admissions and employment in English-speaking countries.
---
Why Use Barron's TOEFL iBT Test Prep?
The Barron's TOEFL iBT Test Prep books have been consistent bestsellers worldwide. Each edition has been excellent, so people have loved using it for TOEFL iBT preparation. Moreover, it has a fair price.
If you want to answer many full-length practice tests, it is best to choose Barron's TOEFL iBT Test Prep. You will not be disappointed because you can find numerous practice questions in the book. Furthermore, there are also illustrative questions with answer explanations.
Using this book is worth it because the content regularly updates to cope with the changes of the actual exam. Reading all the information therein and using them effectively can guarantee that you can pass the TOEFL iBT exam.
---
Everything You Need To Know About Barron's TOEFL iBT Test Prep
The Barron's TOEFL iBT Test Prep is helpful to the TOEFL iBT. However, have you ever tried thinking about what makes it excellent? What does it contain for it to be worthy?
The first section of this book review will give you plenty of ideas about this prep guide. Nonetheless, we will start by presenting its content, authors, the latest edition, and the price. Check its primary details below!
Authors
Dr. Pamela J. Sharpe authored Barron's TOEFL iBT Test Prep books. She is a recognized instructor in ESL (English as a Second Language) internationally. Also, she is an outstanding authority in TOEIC and TOEFL test preps. 
Dr. Sharpe received her bachelor's degree in Phi Beta Kappa with honors from the Ohio State University. She then achieved her master's degree in Linguistics from University and her Ph.D. in TESL (Teaching of English as Second Language) from Ohio State University.
Furthermore, Dr. Sharpe has been a faculty member at many prestigious universities and colleges in the United States, such as Miami Dade Community College, University of Florida, Ohio State University, and the University of Texas at Austin. She also participates in teacher training and development in the United States and is a Fulbright Scholar in Latin America.
Book Contents
The Barron's TOEFL iBT Test Prep includes regularly revised and updated content since its first release in 1977. It has tons of questions to try, and eight full-length TOEFL iBT tests to answer. Don't worry about the answer key because answer explanations are present.
Aside from that, there are also eight 1-hour practice tests and illustrative questions. The reading articles provided in the book are of the appropriate length. Moreover, you can also find a review of required language and academic skills and a general overview of the TOEFL iBT.
Furthermore, with the four video lessons, grammar reviews, online pronunciation guide, and 200 campus flashcards, you can make your preparation less challenging. In this prep guide, you can also improve your vocabulary with 200 terms and sample sentences.
Lastly, there are MP3 audio files online for the prompts and Powerpoint presentations with handouts for teachers. 
Latest Edition Available
The latest edition of Barron's TOEFL iBT Test Prep is its 17th edition, released on April 7, 2020, under Barron's Educational Services. It has 768 pages with more updated and revised content.
What's Inside?
We present to you the official table of contents of Barron's TOEFL iBT 15th Edition. You can use this information to gain ideas about what's inside this prep guide. However, please remember that some parts from this book may be dissimilar to the 17th edition.
About the Author
Acknowledgments
Sources/Credits
Timetable for the TOEFL® iBT
Orientation
Orientation to the TOEFL iBT
To the Student: How to Use This Book to Succeed
To the Teacher: Recommendations and Resources
Syllabus Options
FAQs-Frequently Asked Questions About the TOEFL® iBT
Study Habits
Review of TOEFL® iBT Sections
Reading
Listening
Speaking
Writing
Academic Skills
Campus Vocabulary
Taking Notes
Paraphrasing
Summarizing
Synthesizing
Model Tests
Model Test 1: Pretest
Model Test 2-7: Progress Test
Model Test 8: CD-ROM Test
Answers and Audioscripts for Activities, Quizzes, and Model Tests
Answers and Audio Scripts for Quizzes in Chapter 2
Answers and Audio Scripts for Practice Activities in Chapter 3
Explanatory or Example Answers and Audio Scripts for Model Tests
Score Estimates
Important Background Information
Procedure for Scoring
Reference Charts
Examples for Scoring Model Tests
Score Comparisons
Feedback
Options for Personal Evaluation
Resources
Websites for TOEFL
TOEFL® iBT Resource Centers
Glossary of Campus Vocabulary
Barron's CD-ROM Documentation
Audio CD Tracks
Price
The prices for Barron's TOEFL iBT Test Prep 17th edition may differ depending on the individual stores and additional shipping costs. Usually, the book can range from USD 28.44 to USD 46.07 on Amazon. There can be lower prices for stores that do not offer Prime shipping.
---
Book Review: Barron's TOEFL iBT Test Prep 
The Barron's TOEFL iBT Test Prep includes different lessons and practice questions to try for your TOEFL preparation. Since we have already discussed its content, let us examine its quality and efficacy. We will look at its strengths and weaknesses and check its user ratings from different sites.
General Overview
Before proceeding to the user ratings, we provide you with some pros and cons of using Barron's TOEFL iBT Test Prep 17th edition. The basic contents of the book are excellent, but some sections and parts have drawbacks. Read the following information below to know more. 
The Pros
If you are looking for plenty of full-length practice tests, Barron's TOEFL iBT Test Prep can be one of your best options. It has eight full-length exams with answer explanations. You can rest assured because most of the questions provided there are accurate.
Aside from that, the author of this prep guide frequently revises and updates the book's content to match the changes in the actual exam. It has detailed and strategized tips with grammar reviews, video lessons, MP3 downloads, and Powerpoint presentations. This book also applies best to beginners of the TOEFL.
The Cons
On the other hand, we cannot avoid some errors and drawbacks in prep books. For instance, we can notice some conversations that do not match the readings in this book. The writing sections are in a fixed format so that you cannot practice other ways of writing. 
Furthermore, though some questions are accurate, they are less impactful than the actual exam. You can be shocked at the test because this book contains less complicated questions. On the other hand, some questions are very complex — thus, the level of difficulty of the content is not balanced.
Lastly, this prep guide is not advisable for vocabulary training. It only focuses on jotting down notes and paraphrasing. You may consider getting another supplementary book.
Ratings
Moving on, here are some user ratings from Goodreads, Amazon, and UBuy. We will see the honest reviews from Barron's TOEFL iBT Test Prep 17th edition users. Is the actual book worth it or not?
Take a look at the following user reviews to know more. 
Goodreads
Barron's TOEFL iBT Test Prep accumulated a rating of 4.15 out of 5 in Goodreads. However, only one user rated and wrote a review about the book. He concluded that you could learn a lot from this prep guide, but errors are also present.
This book covers all topics in the test, and the content is up-to-date due to frequent revisions. You can have many things to practice, and the system for the online tests is excellent. Moreover, there are transcripts and MP3s that you can access.
However, the user said that the speaking section is not excellent, and the writing section has one fixed format. Lastly, there are also missing audios and transcripts.
Amazon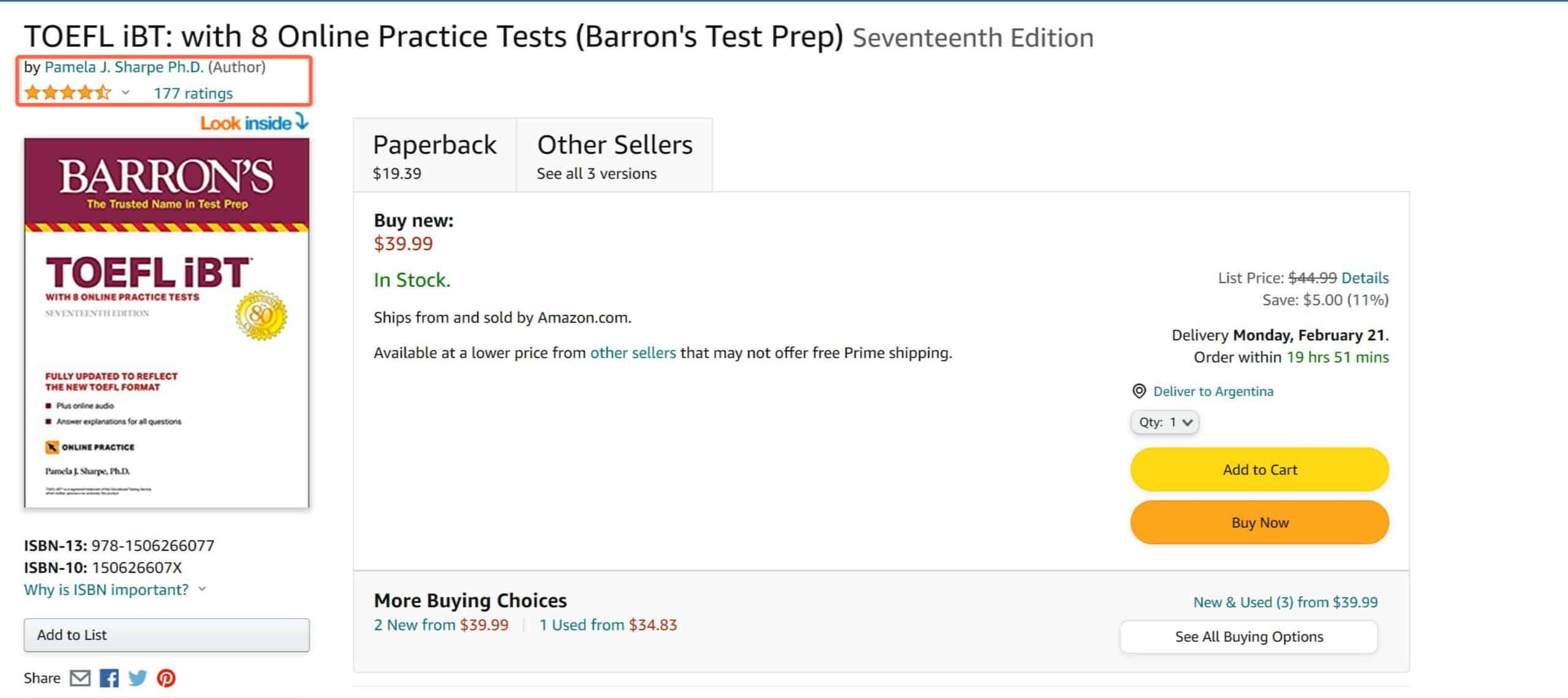 Users from Amazon gave this book a 4.3 out of 5 rating. They commented that there are many tips for reading, and they can learn from the excellent topics provided. The eight full-length practice tests are also helpful.
They also commended the fair price and the content. Nonetheless, some audio contents are inaccessible on Barron's website. Many transcripts are also missing.
UBuy

Lastly, this prep guide received a 4.3 out of 5 rating in UBuy. They also said that they could not access the audio files online. Some of them also did not receive CD Roms.
On the other hand, some users liked the content of the book. They commented that the content is in a logical order, so it is easy to study and follow. Moreover, they commended the eight practice tests.
---
How To Use The Book Effectively?
After knowing its content and the ratings, here comes the big question: how can you use this prep guide effectively? We understand that this book has some errors, but you can still make it productive by using it in the best way.
Here are a few essential tips to help you with that!
Make efforts on studying and do not rely on pure luck. If you aim to pass the exam, you must work hard for it.
It is best to find a study place to concentrate while preparing for the TOEFL iBT. You can arrange your study materials in one area so that you can find them easily. 
Evaluate your English skills and create your study plans. We advise prioritizing the sections of the test you know the least. After that, set your realistic goals.
Study the explanatory answers and try to understand the lessons. 
Take the exams and questions in the book and review your errors afterward.
Give yourself enough time to study. Do not force yourself to finish the whole book in a short period.
---
Is This Book Right for You?
The Barron's TOEFL iBT Test Prep can help you prepare for the TOEFL iBT. However, it applies best to beginners with little knowledge about the English language. If you are an advanced test-taker, you may find this book less effective because some contents are less complicated than the actual exam.
Aside from that, this book can be appropriate for you if you are looking for a book with plenty of full-length practice exams. You can also use the MP3s, and CD ROMs attached here. Nonetheless, Barron's TOEFL iBT Test Prep may not be the best prep material for vocabulary learning and writing practices.
You may want to find another supplementary book to help you fill in Barron's TOEFL iBT Test Prep's gaps.
---
How to Get the Most Out of Barron's TOEFL iBT Test Prep?
There are several ways to try for you to get the most out of this prep guide. Purchasing this book is not the end of everything. It will be best to strategize about making its excellent content more compelling.
Fortunately, here are some tips on using this book to its maximum capacity.
Know the possible content of the actual TOEFL iBT exam. You can find an overview of the test in the first part of this prep guide. Doing this step can give you an idea about what you must prepare.
Invest time in creating your study plan. List your weaknesses and strengths, so you can make your schedule depending on the lessons you first need to master.
Master the required academic skills through the practice questions provided therein. It is also advisable to improve your English proficiency by talking to other people in English. 
Ensure to understand the directions in every activity. This step is essential because you can do things incorrectly if you misunderstand the instructions.
Take the model tests and monitor your progress afterward. You can also check and estimate your scores using the answer keys in this prep guide.
Take the test when you are entirely ready. If you are not feeling confident enough, consider taking more time practicing and studying.
---
Final Thoughts
The Barron's TOEFL iBT Test Prep is an excellent prep guide for practice tests and illustrative questions. It can also set the bar high for its up-to-date contents with detailed overviews of what is essential for the TOEFL iBT test. Moreover, you can also enjoy the resources provided, such as the Powerpoint presentations, video lessons, and grammar reviews.
Nonetheless, you may still want to purchase other supplementary books despite Barron's TOEFL iBT Test Prep's effectiveness. You can select a prep guide with excellent vocabulary terms and more factual information about the writing and speaking sections. 
Once you have come up with the best preparation strategy, you can nail the exam anytime you want! Do not hesitate to share your respective thoughts about this book and your TOEFL exam experiences!
---
---