TOEFL scores of the students, which indicate eligibility for admission, are generally determined by schools and universities, and they vary across undergraduate and graduate programs. 
The colleges and universities generally set their TOEFL scores that indicate a student's eligibility for admission, and in general, these vary among undergraduate and graduate programs. 
---
How Is the TOEFL Test Scored?
You can get a maximum score of 30 in each section of your TOEFL test. A maximum of 30 points are to be earned in each section. So a good TOEFL score of 120 points and 30 points in each component is a perfect score. The TOEFL is a lengthy and challenging exam.
Students must have a TOEFL score for university admissions. 
Several schools require a TOEFL score of 105 or 110 to get admission, but a prerequisite of 120 is never seen. The sum of your TOEFL scores (30 + 30 + 30 + 30 = 120) is your total TOEFL score. 
The greatest possible TOEFL score is 120, while the lowest possible score is 0. 
The second thing is that it is difficult to get a 120 on the TOEFL. There are a lot of native speakers who do not get a 120 when they take the TOEFL. 
Even if you are good at English, you may make some mistakes because TOEFL is a long and complicated test.
Because each university or institution sets its TOEFL standards (or passing score), there is no such thing as a TOEFL passing score. The TOEFL iBT minimum score often ranges from 61 points (for example, Bowling Green State University) to 109 points (Harvard). 
---
What's a Good TOEFL Score?
The Requirements for a Good TOEFL Score are limited but achievable. Admissions in English-speaking countries are only possible with certain standards. Then what about TOEFL? Yes, all international students need TOEFL scores to prove their English language capabilities. 
A good TOEFL score is just one that satisfies your particular objectives. 
A good TOEFL score is dependent on the school to which you are applying. Colleges and universities frequently impose a minimum TOEFL score requirement for admission.
Make a list of the schools to which you intend to apply. Then, for each one, put down a minimal TOEFL score. Finally, on that list, find the lowest minimum score. 
The minimum score requirement for admissions in most colleges is 80 to  90. Although the minimum TOEFL score required depends on the type of institution selected by the students. 
For instance, a TOEFL score of 90 may not be sufficient for more selective universities or graduate programs. It may be significantly higher than the average TOEFL score of the organization you wish to join.
However, you may have questions about what the different scores indicate, the accurate range, and how the averages differ from one another. 
It is reasonable that you want to do your best while also understanding how students select the school as per their requirements and expectations.
A score of less than 80:  

It is considered as a poor TOEFL score.
Universities, especially the top-ranked ones, anything below 80 is unacceptable.
It is possible to get into it by going through the conditional acceptance procedure.
However, there are a few minor public colleges that may accept applicants.
80 to 90 score range:

This is a notch higher than the previous one, and many colleges accept applications in this TOEFL score range.
This TOEFL score range is extremely popular among graduate programs.
90 to 100 TOEFL score range:

This is an ideal TOEFL score range, and most colleges require this range.
As previously stated, several colleges favor students who get more than the needed minimum score.
Scores between 100 and 110:

These TOEFL scores are considered a notch higher and are likely among the highest.
A candidate with this high score can get into one of those Ivy League schools.
Scores 110 to 120:

This scoring range is the greatest without a doubt.
These individuals can easily get admission to any university around the globe that matches the sectional score standards.
| Score Range | Proficiency Levels |
| --- | --- |
| Less than 80 | Poor |
| 80 – 90 | Average |
| 90 – 100 | Good |
| 100 – 110 | Very good |
| 110 – 120 | Best |
Not all institutions are equally strict about TOEFL score requirements: 
When it comes to TOEFL score standards, not all colleges are the same. Failure to satisfy TOEFL criteria may result in immediate rejection at specific institutions.
However, lower TOEFL scores may qualify you for conditional admission or even regular admission at others.
TOEFL Score Requirements for Graduate Programs:
Graduate program TOEFL score requirements often vary by program or department, with some programs demanding higher TOEFL scores than the university as a whole.
Schools and Programs Only Accept TOEFL iBT Scores:
TOEFL iBT results are accepted by colleges and programs, but not TOEFL PBT or updated TOEFL paper-delivered scores. However, the TOEFL iBT is significantly and more widely used than the updated TOEFL paper-delivered test.
---
What Are the Minimum Score Requirements?
Commonly, institutions tend to mention the TOEFL minimum score required for admission. The exact TOEFL score students need for admission ultimately depends on where students want to apply. 
According to the ETS TOEFL, institutions set their score requirement. Universities set TOEFL scores in various manners. 
Universities and institutions use all score information, not only the overall scores. Section scores can help distinguish one candidate from another and give a complete picture of their experience. 
Evaluate whether English language learning help is available at your institution. If it is not available at an initially higher level of English language proficiency may be needed.
ETS says to Set up flexible scores initially. 
Universities review their section scores on equal intervals and set minimum section score requirements for the skills. 
Conduct systematic reviews of your score requirements.
The minimum TOEFL requirements for universities around the globe vary widely. Generally, if competitive a school is, a higher minimum TOEFL score is required. 
A TOEFL test minimum score can either be 100 or above, which is a reasonable target for the students.
However, a TOEFL score of 85 or more is typically regarded as an excellent score to acquire. At Stanford University, the minimum TOEFL score would differ from Harvard University in minimum TOEFL score, and other colleges would require a higher minimum TOEFL score. 
---
Is it Good to Achieve More than the Minimum TOEFL Score?
The minimum TOEFL score requirement for university entrance is different. Scores above the minimum limit will increase your chance of admission to the institution, while scores below the minimum will almost certainly result in the refusal of the application.
Students should select the required scores and look for the previous score list. The institutions maintain both minimum TOEFL requirements and recommended TOEFL scores.
On the website, you may get more thorough information. Applicants should make sure to conduct extensive studies to determine a decent TOEFL score.
TOEFL Score Range Requirements
The TOEFL score range is from 1 to 120. 
TOEFL sectional scores range from 0 to 30. 
After studying the above TOEFL iBT TOEFL score ranges, candidates will determine a decent TOEFL score. The TOEFL score based on ETS competency levels is shown below. 
The maximum TOEFL score is 120, according to the iBT TOEFL score table above. 
The TOEFL minimum score is 0, but the IELTS minimum score is 0. It is also possible to conclude that a candidate who receives an advanced level score is an excellent performer. A candidate who receives a basic level score, on the other hand, will require further preparation.
Sections
TOEFL Score Range
Level
TOEFL Listening Section
0 to 30

Advanced (22 to 30)

High-intermediate (17 to 21)

Low-Intermediate (9 to 16)

Below Low-Intermediate (0 to 8)

TOEFL Speaking Section
0 to 30

Advanced (25 to  30)

High – intermediate (20 to  24)
Low – Intermediate (16 to  19)
Basic (10 to 15)
Below Basic (0 to 9)

TOEFL Reading Section
0 to 30

Advanced (24 to  30)

High – intermediate (18 to  23)
Low – Intermediate (4 to  17)
Below Low – Intermediate (0 to 3)

TOEFL Writing Section
0 to 30

Advanced (24 to 30)

high-intermediate (17 to  23)
Low-Intermediate (13 to  16)
Basic (7 to 12)
Below Basic (0 to 6)
How to Research TOEFL Score Requirements?
Consider the requirements for the minimum section score criteria for the capabilities that are most crucial to your program's success, in addition to overall scores.

Section scores can help you differentiate one applicant from another and provide you with a view of their qualifications.
Set flexible scores initially.
Set up a flexible scoring system first. Review your scores criteria regularly.
Consider whether your institution offers English language learning assistance. If it isn't available, a greater degree of proficiency is required at first.
Institutions that utilize the CEFR to define admissions standards require scores that translate to CEFR level B2 or above for moderate language demands and CEFR level C1 or higher for severe language demands.
---
What Is a Good TOEFL Score for You?
The best description of a good TOEFL score is one that allows you to register in your preferred colleges. Most colleges have a TOEFL cutoff score, which you must achieve to be considered for admission. In many circumstances, meeting the cutoff score is sufficient for the school to have faith in your English abilities.
An average TOEFL score is around 90. It may vary from 85 to 95. In the exam, above 100 is considered a good TOEFL score. 
When taking the TOEFL test, candidates should keep in mind that there are no good or bad marks. Furthermore, test takers should not hang to this phrase.
You now have a better understanding of how the test is constructed and graded, as well as what you'll have to perform on test day. But, how do you study for the exam, and what TOEFL scores are needed for admission? 
A decent TOEFL score depends on the school to which you are applying. Colleges and universities frequently establish a minimum TOEFL score for admission that ranges from 45 to an incredible 110.
---
What is the Good TOEFL Score for Graduate and Professional Studies?
The TOEFL is not only for full-time undergraduates! Adult professionals can also utilize the TOEFL to get a license in the United States to work in healthcare. 
Professionals with qualified TOEFL scores can also boost their careers by earning an MBA or legal degree.
Graduate
The best description of a good TOEFL score for graduate students is one that allows you to register in your preferred colleges. Most colleges have a TOEFL cutoff score, which you must achieve to be considered for admission. 
In many circumstances, meeting the cutoff score is sufficient for the school to have faith in your English abilities.
Some graduate programs require a high degree of literacy in English Literature. For example, these literary courses will have stricter English language requirements for TOEFL, and you might need a score of at least 100. 
In any case, it's a good idea to double-check with your potential institution's requirements before starting your application.
| Academic Level | Reading | Listening | Speaking | Writing | Total |
| --- | --- | --- | --- | --- | --- |
| High School | 16.4 | 17.1 | 19.1 | 19.2 | 72 |
| Two-Year College | 18.2 | 17.9 | 19 | 19.3 | 74 |
| Undergraduate | 19.4 | 19.4 | 20.2 | 20.5 | 80 |
| Graduate (Non-Business) | 21.9 | 21.3 | 20.8 | 21.7 | 86 |
| Graduate (Business) | 21.8 | 21.3 | 21.1 | 21.7 | 86 |
| English-Language School | 20 | 19.4 | 19.7 | 20 | 79 |
---
Professional
Professional TOEFL scores depend on what field you are going into, and sometimes it also depends on where you plan to work. 
Business schools hold their applicants to high TOEFL standards. However, business schools are much less likely to have minimum requirements for individual sections of the TOEFL. 
Instead, American MBA programs are far more interested in the big picture, your whole-test score. Because of this, it should not be unexpected that the top MBA programs in the table below have no section score requirements.
The TOEFL score criteria for the best law schools in America while other TOEFL accepting countries also assist you in achieving your desired score with their TOEFL score structures. 
---
---
How to Set Your TOEFL Score Goal?
#1: Get to know the TOEFL format
Reading, listening, speaking, and writing are the four parts of the TOEFL. The TOEFL test is constructed as follows: 
In the preparation of reading and listening to the test, students are given additional experimental questions.
It will increase the number of questions and the time allotted for certain portions of the TOEFL. Make sure you research and examine each section of the TOEFL to get a sense of what subject you will need to review ahead of time.
Test Section
Number of questions
Timing
Reading

3 to 4 passages

12 to 16 questions each

60 to 80 minutes
Listening

4 to 6 lectures

6 questions eac

h

2 to 3 conversations

5 questions each

60 to 90 minutes
BREAK
10 minutes
Speaking
6 tasks:


2 independent

4 integrated

20 minutes
Writing

1 integrated task

1 independent task

20 minutes30 minutes
---
#2: Map a List of the Schools, You are Interested In and Make yourself a chart
Your first step is to make a list of all the schools that interests you. Write or type this list. You don't need to have a definitive list of colleges you want to apply to at this point; a general list of schools you might be interested in attending will suffice.
This list will further help you to find the highest TOEFL score out of your university choices. 
It will give you a useful visual representation of what TOEFL scores you need to attain admissions in an undergraduate or graduate program. In the notes section, make sure to give details specific to TOEFL section score requirements, degree programs, financial aid, and other important details that the institutions can offer you.
---
#3: Find your college or university TOEFL score information online
The next step is to determine the TOEFL score that each institution requires. This information is normally available on the admissions page of the college.
For various colleges, the minimum necessary total TOEFL scores range from 45 to 100, with many colleges demanding scores from 70 to 80.
Add the required TOEFL score next to the college name on your list for each institution and your interest. You should surely include all of the relevant details.
Some institutions only require a minimum overall score, while others demand minimum scores for each component. Additionally, some colleges have various TOEFL requirements based on your intended major. 
To guarantee that you obtain an accurate score goal, make sure you provide the relevant information. There are several internet sites available to assist you in locating needed TOEFL scores, suggested TOEFL scores, and other information. 
Score requirements are frequently listed in the foreign student university sections, or you may be required to contact their admissions office for further information. It is important to understand that graduate schools may have different TOEFL requirements than undergraduate ones.
---
#4: Make Adjustments and Determine your TOEFL score goal
Now, you know the minimum requirements for each of the institutions on your list, but should you aim higher?
Getting a TOEFL score that is significantly better than the minimum criteria will not harm your application, and it will likely make navigating an English-speaking institution simpler.
Most schools set TOEFL requirements based on the language abilities that are necessary for success.
It is anticipated that if you match the requirements, you will have to handle the language barrier just fine. However, this is not the case for every institution, and there are somewhere a higher-than-required TOEFL score might help you get in.
This information is sometimes immediately mentioned on the school website. The admissions website may suggest that any TOEFL score that meets or exceeds the standards is sufficient or that better scores will enhance your application.
To be safe, you should still attempt to satisfy the TOEFL standards of the mentioned colleges, but it is something to think about if you can not. 
You discover to offer yourself the most full image of what TOEFL score you should be striving for by inserting any of this extra information next to each institution. If you can not find this information on the school website, you should contact the admissions office. You can directly contact via phone or email to ensure you have the most up-to-date information.
---
#5: Find the Highest TOEFL Score From Your List Determine your TOEFL score goal
Now that you have compiled a list of needed and preferred TOEFL scores for the institutions, you are considering the list to discover the highest score. It is your target TOEFL score. Achieving this score would indicate that you received an excellent TOEFL score. Since it would satisfy the standards of all the institutions, you are considering.
It would also include section scores of at least 23 in Listening and Reading. At least 21 in Speaking and Writing to fulfill the university criteria. Once you have discovered a solid TOEFL score, write it down and clip it to a visible location, such as your desk. 
Keep it visible while studying to remind yourself of the grade you are aiming for and motivate you to succeed.
---
---
ETS: Good TOEFL iBT Score
For each part, the TOEFL Essentials score scale is presented in bands ranging from 1 to 12.
The total score is calculated by averaging the four sections and rounding to the closest half band.
Listening: 1 to 12
Reading: 1 to 12
Writing: 1 to 12
Speaking: 1 to 12
Institutions set score requirements to choose on overall band score in half-band increments (e.g., 9 or 9.5 or 10) and section band scores in full-band increments (e.g., 8 or 9 or 10).
Each skill has 4 or 5 proficiency levels, and where your score falls within that range determines your skill competency.
Skill
Advanced
High-
Intermediate
Low-
Intermediate
Basic
Below
Basic
Below
Low-
Intermediate
Reading
(24–30)
(18–23)
(4–17)
–
–
(0–3)
Listening
(22–30)
(17–21)
(9–16)
–
–
–
Speaking
(25–30)
(20–24)
(16–19)
(10–15)
(0–9)
–
Writing
(24–30)
(17–23)
(13–16)
(7–12)
(0-6)
(13–16)
---
Listening Section
CEFR level
TOEFL Essentials
Overall band score (1–12)
TOEFL iBT
Total score (0–120)
C2
12
114 –120
C1
10 – 11.5
95 –113
B2
8 – 9.5
72 – 94
B1
5 – 7.5
42 – 71
A2
3 – 4.5
n/a
A1
2 – 2.5
n/a
Below A1
1 – 1.5
n/a
Reading Section
| CEFR level | TOEFL Essentials (1 –1 2) | TOEFL iBT (0 – 30) |
| --- | --- | --- |
| C2 | 12 | 114 – 120 |
| C1 | 10 – 11.5 | 95 – 113 |
| B2 | 8 – 9.5 | 72 – 94 |
| B1 | 5 – 7.5 | 42 – 71 |
| A2 | 3 – 4.5 | n/a |
| A1 | 2 – 2.5 | n/a |
| Below A1 | 1 – 1.5 | n/a |
Writing Section
| CEFR level | TOEFL Essentials (1 – 12) | TOEFL iBT (0 – 30) |
| --- | --- | --- |
| C2 | 12 | 28 – 30 |
| C1 | 10 – 11 | 22 – 27 |
| B2 | 8 – 9 | 17 – 21 |
| B1 | 5 – 7 | 9 – 16 |
| A2 | 3 – 4 | n/a |
| A1 | 2 | n/a |
| Below A1 | 1 | n/a |
Speaking Section
| CEFR level | TOEFL Essentials (1 – 12) | TOEFL iBT (0 – 30) |
| --- | --- | --- |
| C2 | 12 | 29 – 30 |
| C1 | 10 – 11 | 24 – 28 |
| B2 | 8 – 9 | 18 – 23 |
| B1 | 5 – 7 | 4 –17 |
| A2 |  3 – 4 | n/a |
| A1 | 2 | n/a |
| Below A1 | 1 | n/a |
---
Good TOEFL Score Percentile
The comparison of your TOEFL score to other test takers who share your language, come from your home country, share your gender, or have the same level of education that you do.   
The 90th percentile in the TOEFL score in your country makes a good TOEFL score if you think of applying to the language degree program. 
This official TOEFL percentile report seems a little complicated and helpful, though. 
It is better to read explanations of the official TOEFL percentiles on ETS. 
Your national TOEFL percentile influences global percentiles a lot based on a very big nation.
| TOEFL Total Score | TOEFL Percentile |
| --- | --- |
| 120 | 100 |
| 116 | 99 |
| 112 | 96 |
| 108 | 92 |
| 104 | 87 |
| 100 | 80 |
| 96 | 72 |
| 88 | 56 |
| 84 | 48 |
| 80 | 41 |
| 76 | 34 |
| 72 | 28 |
| 68 | 22 |
| 64 | 18 |
| 60 | 14 |
| 56 | 11 |
| 52 | 8 |
| 48 | 6 |
| 44 | 4 |
| 40 | 3 |
| 36 | 2 |
| 32 | 1 |
| 28 | 1 |
| 24 | — |
---
How to Manage a Low TOEFL Score?
Students should not worry if the TOEFL exam goes wrong because it is strict. The TOEFL exam requires extensive vocabulary. Also, avoid repetition in the audible passages. Every chance has scope for improvement. 
Search for schools that have a lower cut off
The result is unpredictable, and the TOEFL score should not be as per expectations. Research for the schools that accept average to low TOEFL scores.
Check if your school will accept you if you meet certain criteria.
Some schools also admit students in special terms & conditions. It is better to cross-check the policies of schools.
You can retake the TOEFL exam if you have time before the deadline for your admission. You can take as many TOEFL examinations as you want, and you can retake them every 12 days. However, it is recommended that you study thoroughly for the retake to prevent future retakes, as this is a time and money-consuming activity.
Select if you can eliminate TOEFL from the Application package
Even if their TOEFL score is low, students with extensive English expertise may have an edge. If a student has attended a school where English is the dominant language, certain schools will waive the average TOEFL score.
---
What are TOEFL MyBest Scores? 
MyBest scores are the super scores on each part (Reading, Listening, Speaking, and Writing). The test takers' valid TOEFL iBT test scores from tests taken within the past two years also make the sum of the MyBest section scores.
The use of MyBest scores reflects a growing trend in university admissions of integrating many factors.
Multiple test dates generated the most significant section results. MyBest scores are reliable performance indicators. They are honest section scores, and their reliability is backed up by study.
The use of MyBest scores provides greater flexibility for admissions decisions through the option of inclusion of those candidates with MyBest scores that meet the admissions requirements and would otherwise be disqualified based on results from one or more test experiences.
The use of MyBest scores allows for additional flexibility in admissions choices by applicants with MyBest scores that fulfill the admissions standards to be considered even if they would otherwise be denied based on the outcomes of one or more test occasions.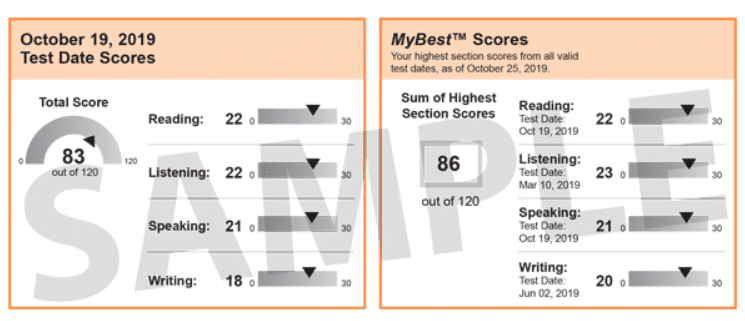 ---
How and When to Retake the TOEFL Exam?
You can retake the TOEFL exam if you have time before the deadline for your admission. You can take as many TOEFL examinations as you want, and you can retake them every 12 days. 
However, it is recommended that you study thoroughly for the retake to prevent future retakes, as this is a time and money-consuming activity. You may repeat the TOEFL iBT as many times as you desire as long as three days have passed since your previous test. 
The needed time between tests is only three days, offering you additional testing opportunities and allowing you to fulfill tight deadlines. 
You have unlimited opportunities to take the test. At accredited test centers, the TOEFL online exam is given more than 50 times a year. It is true even if you cancel your previous test scores.
If you already have a test appointment, you will not be able to register for another one within three days of your current one. You are not authorized to repeat the exam within 12 days of your last attempt.  
---
12 Practical Tips and Tricks to Earn A Good TOEFL Score
#1: Familiarize Yourself with the TOEFL Format
On the TOEFL, surprises are everything but enjoyable. So, before you take the exam, make sure you're familiar with all of the TOEFL's core elements and scoring methodology. You should be familiar with the TOEFL parts, how they are organized, how much time you will have on each section, and the kind of questions and prompts you will encounter.
You'll know what to expect on test day if you know how the TOEFL is constructed, and you'll be able to prepare accordingly and more confidently.
---
#2: Set a Goal Score
To guarantee you have the best caliber chance of being admitted to the institutions that interest you. Any cumulative score that fulfills all of your schools' minimum necessary TOEFL scores is referred to as a target score.
If you want to score above, you improve your chances of being accepted to not just one but all of your institutions. A goal score also provides you with a specific figure to strive for during your TOEFL preparation, making it easier to plan up a study regimen that suits you.
---
#3: Allow Yourself Plenty of Time to Prepare
Before you register for the TOEFL, give yourself plenty of time to study for the exam and improve your English abilities. In most cases, three to six months of study time should be adequate. However, actual periods will vary based on your English proficiency and the amount of study time you have available.
If you're already quite fluent in English and only want to learn how to study for the TOEFL, you'll probably need less time to prepare. 
If you don't speak English well, you'll need additional time to prepare for the TOEFL. Spend time doing activities like viewing English news and interacting with native English speakers to improve your general English abilities. Then start focusing on the TOEFL and the kind of English it sets.
Finally, understanding the English language alone won't get you a good TOEFL score; you'll need to study hard with high-quality materials and a well-thought-out study strategy.
---
#4: Choose an Early Test Date
Your TOEFL scores will arrive at your institution on time if you take the test early. 
Your school location will impact how long it takes for your results to arrive. Scores are normally received 20-30 days after the exam date by schools in the United States and six to eight weeks after the test date by institutions outside the United States.
As a result, if you're applying to colleges in the United States, attempt to take the TOEFL no later than six weeks before the deadline. Take the TOEFL no later than ten weeks before your deadline if you're applying to institutions outside the United States.
---
#5: Personalize Your Study Plan 
Focus on what you don't know rather than what you do know when studying for the TOEFL. You'll spend more time honing your shortcomings and have a higher chance of doing well on all four TOEFL parts if you do it this way.
It is always better to figure out where you struggle the most. Then practice and study until it's no longer a major weakness. 
---
#6: Use the Elimination Process
If you don't understand a Reading or Listening question, don't guess. Instead, apply the process of elimination.
It is how it works: instead of looking for the proper response option, you'll seek the incorrect option. You'll have a better chance of picking the correct answer if you can remove as many wrong options as possible.
Wrong response selections might be hard to spot, but they frequently include:
Make a statement that contradicts the paragraph or audio sample.
Refer to anything that is not covered in the paragraph or audio clip.
Make a comment that is unrelated to the paragraph or audio clip.
---
#7: Acquire the Skill of Recognizing Multiple-Answer Questions
Multiple-choice questions with more than one correct answer appear in both the Listening and Reading sections.
Depending on the subject, multiple answer questions are worth 1 to 3 points, and they always inform you how many choices you can pick.
---
#8: Take Notes Frequently and Effortlessly
On the exam day, test takers provide the scratch paper you can use for taking notes. While you won't need to take notes on Reading, you will want to keep track of your listening, speaking, and writing skills. It is always better to take notes on integrated tasks. 
Note any solutions or decisions made while listening to the task. Speaking task, briefly outline the two or three main points to be discussed in your response. 
---
#9: Answer Every Question
There is no negative marking in the TOEFL answers. It is suggested never to leave a question in a hurry there is scope to guess.
Therefore, you should always answer every question in each section to give yourself the best chance of achieving the score you want.
---
#10: Look for Evidence in the Texts
Reading secret is that by referring to particular evidence found in the texts. In other words, everything you need to answer a reading question is right there in the passage only have to look for it!
If a question refers to a specific paragraph, answers are also located in the same. There's no need to waste time looking through the rest of the text!
You may practice looking for evidence in TOEFL Reading sections using high-quality readings and question sets.
---
#11: Select a Reading Strategy That Is Effective for You
You choose a reading strategy before taking the TOEFL. Our TOEFL preparation guide offers four different techniques for the Reading section.
First, read the full passage. After skimming the paragraph, respond to the questions.
Paragraph after paragraph, respond to the questions. First, read the questions.
---
#12: Read Texts That Are Complicated
Reading as many English-language works of literature as possible is the more significant approach to enhance your reading abilities. You'll not only improve your vocabulary and grammatical skills, but you'll also understand how arguments are formed and what makes them so intriguing to read. 
Newspapers, journals, and periodicals that are widely circulated are ideal places to start. The New York Times, The Atlantic, The Economist, Discover, and Nature are just a few examples.
---
---
Additional FAQs about TOEFL Score
What is the TOEFL Exam Used For?
All the international applicants who are non-native English speakers wish to study, work and migrate to foreign countries. The Test of English as a Foreign Language depends on the English language proficiency of the person. 
The TOEFL test is accepted by more than 11,000 universities and other institutions in over 190 countries and territories. The TOEFL exam examines reading, writing, speaking, and listening skills.
How Many Times Can I Sit for The TOEFL Exam?
A student can retake the TOEFL test according to the TOEFL retest policy they wish. It is suggested to have a 12 days gap between each test date. 
The waiting period for the TOEFL test is three days only. It is valid even if you delete your previous test results. If you already have a test appointment, you will not be able to register for another one within three days of your current one.
What is a Good TOEFL Score for The Ivy League?
TOEFL scores of above 100 are usually required for admission to an Ivy League college. Aim for a score of 105 or above in this case, with a sectional score of at least 26. While most universities are solely interested in overall scores, Ivy League colleges sometimes have a sectional TOEFL cutoff. 
When it comes to more competitive colleges, such as the Ivy League, a TOEFL score of 100 is generally required. A 105 score puts you well above both of these standards, making you eligible for many competitive colleges.
How Often is the TOEFL Offered?
The TOEFL iBT test is available at authorized test centers or from home up to 6 days a week throughout the world. When you register, you will be able to choose between three TOEFL iBT testing options: in a test center, at home, or on paper.
More than 50 times each year, the TOEFL iBT is offered in test centers all around the globe. Check the official website to find out dates and locations.
---